Complete Story

06/14/2019
Ohio Tourism Leadership Academy Project Highlights
Addressing Diversity & Inclusion in the Travel Industry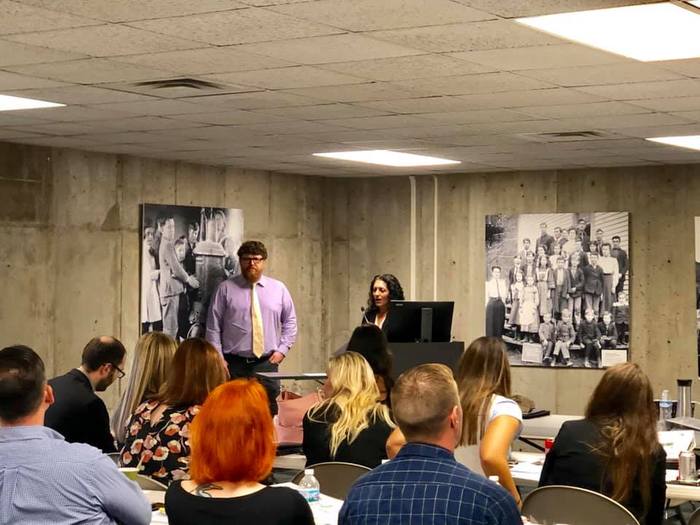 This week, the Ohio Tourism Leadership Academy presented their final projects at the Ohio History Connection in Columbus. This popular leadership program is offered by the Ohio Travel Association (OTA) annually. Class members this year separated into groups and researched specific trends likely to impact the travel industry and the way we do business. Groups addressed topics such as generational ethics, social media, economic conditions, and more. Today, we will highlight Justin Hemminger's and Melissa Sanders' project on Addressing Diversity and Inclusion in the Travel Industry.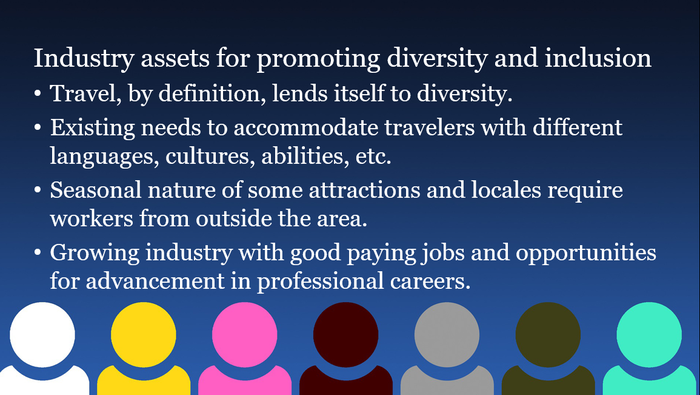 Thesis
Justin and Melissa addressed the disconnect between front-line and leadership positions, highlighting the need for people with diverse backgrounds to advance into professional, decision-making roles. In a world of demographic changes and blurring gender roles, it is imperative that diverse individuals have opportunities to excel in the workforce.
Supporting Trends
Included in their presentation was some fascinating research. According to Pew Research Center, Caucasian people will not be a majority group by 2055 but will continue to remain the largest racial group in the U.S. The estimated 2055 breakdown is 48% Caucasian, 24% Hispanic, 14% Asian, and 13% African American, which are almost triple projections for Hispanic and Asian races. It is also noted that racial prejudice is and will continue to decline over the years, and the millennial generation is more inclusive and open-minded compared to past generations.
Insights
A deeper look into this topic reveals the benefits of inclusion in the workplace, particularly in the travel industry. Diversity in the workplace supports a positive environment, free of prejudice or unhealthy competition, and invites the opportunity for hard work and creativity to be awarded regardless of age, race, creed, or sexual orientation. Inclusion and a more diverse workforce further improves the visitor experience. Diversity brings knowledge, skills, and cultural insight to the table, which is positive for visitor experience. This leads directly into businesses standing out and being accessible. Usual perception reveals that travel and tourism jobs equal front-line positions, but that isn't the case. Higher level positions always need filled, and companies that have algorithmic discrimination technology in place is not only unfair, but keeps people from diverse backgrounds from having the opportunity to apply for or excel in a higher level position. While all sectors will be impacted by an increase of people with diverse backgrounds, the most affected branches include accommodations, recreation, events, food and beverage, and tourism services.
What Needs to be Done?
Businesses and organizations should provide resources for diversity and inclusion plans. Every part of your business should be analyzed and any discriminating or possibly detrimental policies should be removed. Included in the action processes is informing people that four year degrees aren't always needed. Sometimes, training programs such as Cincinnati's Dan Lincoln's Institute of Hospitality Leadership and the OhioMeansJobs Readiness Seal (which builds soft skills needed to secure jobs and advance) certify people for tourism-related positions. To make this possible, funding, staff and staff training, and state and local partnerships are needed.
How Can OTA Help?
Justin and Melissa proposed a couple ideas for the role OTA could take to advance this mission if appropriate and feasible. OTA could help the industry navigate this change by helping to build and promote diversity policies with its members. We can provide samples resources, forms, plans etc. to industry members so that they can implement structures into their existing business models. OTA also has introduced the OhioMeansJobs Readiness Seal as a pilot project at the Columbus Zoo and Aquarium. Expanding this program statewide could reach many more student workers. As always, OTA will continue to advocate and encourage collaboration and inclusion in the travel industry throughout the state of Ohio.
The OTA Board of Directors assigned the Ohio Tourism Leadership Academy groups these group research topics with the goal of being able to learn and build upon some of these findings in shaping OTA's future work. Special thanks to all OTLA class members, speakers and experts who have assisted in shaping these discussions.
To learn more about the Ohio Tourism Leadership Academy, and how to join, click the button below!
---