Complete Story

02/02/2017
Cincinnati Art Museum Showcases the Talent of its Employees in an Exhibition
Celebrating and Engaging Staff in a Unique Way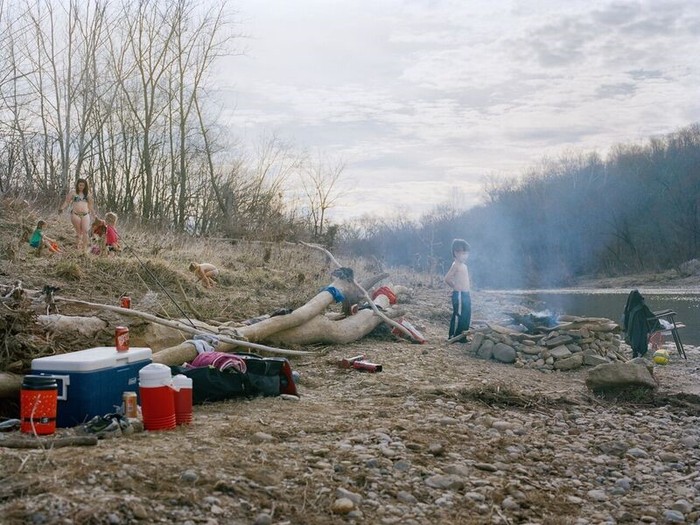 Erin Geideman, On the Great Miami, from the series I can see right through you, 18"x12", 2012, archival inkjet print.
Erin, Design and Marketing Assistant at Cincinnati Art Museum, studied at Syracuse University, where she graduated in 2013. This is her first museum showcase, and her work has been shown nationally and internationally in different publications and exhibitions.
The relationship between staff and community partners is important, and the practice of that relationship proves beneficial to the work of an organization. The Cincinnati Art Museum did just that with the employee-based exhibition, "Employed: A Staff Art Exhibition," where they collaborated with staff, who submitted their own art to be shown in the museum. Whether you are a large business or a small organization, there is almost always a creative opportunity to involve staff or community partners with the work you do. You could even implement a small gallery of employee artwork in your own office to forge even stronger relationships.
We spoke with Jill Dunne, Marketing and Communications Director, and Erin Geideman, Design and Marketing Assistant, who also contributed her photography to the exhibition. Both told us about the process of collaborating with employees to produce a unique opportunity, showcased in front of tens of thousands of visitors.

What was the inspiration behind creating an exhibition of art featuring Cincinnati Art Museum employees?
Jill: The exhibition is a tribute to our employees and to our history as a museum and learning institution. Cincinnati Art Museum is known for showcasing local art, so we wanted to also showcase the great talent here at CAM. The idea for the exhibition was pitched to the exhibition committee including the museum's director, Cameron Kitchin, and the idea was very well-received.
Erin: This was a great opportunity for employees to teach, learn and grow together as a museum community. A lot of the employees have art backgrounds, whether they are retired artists or art students.

What sort of guidelines were given to employees for submitting their art? When creating the exhibit, was there any specific theme you wanted the art to convey?
Jill: Each artist could only submit six pieces of art. We did not put any boundaries on the date the piece was made or artistic style, allowing for full creativity. This resulted in great variety including paintings, sculptures, fashion, installation and photography.
Erin: There were no specific themes, but some pieces of art tended to repeat similar themes, like the section in the main gallery that held still life paintings.

How does this opportunity help showcase the creative value in your employees?
Erin: I have already had the chance to be interviewed, and I was also featured in a publication. When the exhibition first opened, it opened at the same time as our Vincent van Gogh exhibition, and to be housed in the same museum as a master artist is truly phenomenal. This exhibition inspired me to make even more work.

What kind of message does the museum wish to send to the visitors through this exhibition?
Jill: We have more than 200 employees at the museum. This exhibition shows how incredibly proud we are of our own employees, as not only staff members but as talented artists. You work day-in and day-out with staff, and sometimes you are not exposed to their full talent. For example, we have a member of our security team who works our front desk and is an incredible artist, and not everyone knew that. We all know it, now!
Erin: We have already had many heart-felt conversations about the exhibit, and this has fostered a strong community here at the Cincinnati Art Museum.
Would the Cincinnati Art Museum want to install another employee art exhibition in the future? If so, what would be different about a second installation?
Jill: We're always open to another employee-museum collaboration. However, the exhibition calendar is set years in advance, so we wouldn't have another soon. We have a lot to showcase including our own diverse collection of 67,000 pieces of art from our permanent collection and a wide variety of international traveling exhibitions.
For any entities that might want to institute a similar program, what advice can you give? What is useful to know when collaborating with employees?
Jill: The idea for the exhibition was pitched by two employees who are local artists; however, general interest among the employees was gathered before the committee decided to approve the project. The best advice I can give is to have a strong interest in the idea and make sure you have the drive behind it before getting it ready; a strong base is beneficial to a project of this size. Another key thing that helped was that we included an independent blind jury, outside of the museum, to select which pieces to display in the exhibition.

The comradery between employees and administration proves vital to the success of any business or organization. Allowing your employees the opportunity to express themselves can open up conversations and creativity among employees, yourself and the community.
Cincinnati Art Museum's "Employed: A Staff Art Exhibition" runs Oct. 29, 2016 – Feb. 19, 2017.