Complete Story

03/26/2020
Daily Updates: Ohio's Travel Industry and the Coronavirus (COVID-19)





June 2, 2020
GUIDELINES AND REOPENING DATES TO BE PROVIDED THURSDAY
During Governor Mike DeWine's press conference today, he said information about zoos, museums and others in the 'entertainment' category will be released Thursday. OTA has communicated with his office that every day without answers results in millions of lost business revenue, risking even more jobs in an industry with a 50+% unemployment rate.
Please continue to communicate the importance of this information being provided ASAP. Every day counts. To send a message to Governor DeWine, go here.
INTENT TO TRAVEL SHOWS MOVEMENT
Longwoods International's weekly traveler sentiment study shows the following:
Forty-seven percent of American travelers say the coronavirus pandemic will greatly impact their travel plans in the next six months, down from a peak of 67% on April 1 and the lowest level since mid-March.
And 71% of American travelers have travel plans in the next six months, a percentage that has remained relatively constant since mid-March, but down from a peak of 87% on March 11, before the full impact of the pandemic was in place.
Forty percent of American travelers support opening their communities to visitors, up from 31% two weeks ago
Forty-three percent feel safe traveling outside their communities, up from 35% in that same time period.
About a third of those surveyed would feel safe dining in local restaurants and shopping at local stores.
June 1, 2020
NEW PUBLIC HEALTH ORDER EXTENDS EXISTING ORDER TO JULY 1
A new public health order extends the initial order to July 1. The previous order expired over the weekend. OTA has had conversations with the governor's office who clarified that the intent of this order is not to delay reopenings of entertainment venues till July 1. As has happened previously with other business types, reopening dates can be announced and the order amended.
The order itself says "or as it may be subsequently amended" when referring to business closures.
May 29, 2020
MARKETING ROADMAP DISCUSSED DURING THIS WEEK'S WEBINAR
Figuring out a marketing strategy right now (not to mention for the next year) seems daunting faced with all the uncertainty.
Thanks to Madden Media, this task just got a little clearer. They presented a marketing roadmap during this wee's Ohio Travel Association's deep-dive marketing webinar. Using travel data, sentiment research and their own travel index, Madden CEO Dan Janes and VP of Revenue Brett Gordon walked industry members through a step-by-step strategy for rebuilding business. Following the webinar, they participated in a conversation with attendees to help work through some of their marketing questions and opportunities.
Effective marketing during this time is not going to be about turning on your pre-COVID strategies and waiting for guests to respond. Madden suggests a 3-phase approach. Learn more about this approach and insights about traveler behavior research here.
May 28, 2020
OHIO'S MUSEUMS, CAVERNS, ZOOS AND MANY OTHER ATTRACTIONS TO HEAR NEXT WEEK
Based on what has been opened thus far, and now with fairs being addressed, we share your frustrations with the lack of guidance for Ohio's many travel-related businesses that remain closed. Today, when asked about opening of zoos, amusement parks and others, the governor said he will attempt to address the openings next week.
He said he has had conversations with sports teams and others related to large-scale spectator sports, but not in recent weeks.
The Ohio Travel Association has worked every day to get our businesses the answers they need for opening. We are reaching out to statewide media; boosting social media messages; contacting the governor, the lt. governor and legislators on an almost-daily basis.
FAIRS PERMITTED TO PROCEED WITH LOCAL APPROVAL
Governor DeWine said guidelines for junior fairs have been developed and will be released today on the Ohio coronavirus site. Decisions on county and independent fairs will need to be made in collaboration with local public health departments. View county fair guidelines here.
---
May 27, 2020
TRAVEL SENTIMENT SURVEY: AMERICAN TRAVELERS PLANNING THEIR FIRST TRIPS SINCE THE PANDEMIC (View full Longwoods International study here)
Almost half of American travelers (48%) are planning their first trip since the pandemic between now and July 4th. (Road trips to visit friends and family are the most popular.)
Conversely, 52% of Americans do not plan to travel before July 4th.
Americans are also still very divided about welcoming visitors back – 36% in favor and 33% against…
More travelers are continuing to change their plans from fly to drive vacations/getaways
---
May 26, 2020
GOVERNOR NONCOMMITTAL ABOUT ADDITIONAL REOPENING UPDATES
When asked about what is in the pipeline for reopening, the Governor said he will continue to watch the numbers.
The Ohio Travel Association and many of its members have repeatedly contacted the governor's office asking for reopening dates to be provided. We have explained that it takes several weeks for many of our businesses to gear up for opening, and that knowing these dates can save Ohio jobs.
Putting all kinds of entertainment businesses in one bucket does not make sense. Trying to open a mixed bag of businesses and guest experiences is costing Ohio jobs and millions of dollars every single day. Zoos and other outdoor experiences should open right now. possible. Museums and many other entertainment businesses can actually time entries and keep people distanced much easier than many of the businesses open right now.
NEW GUIDELINES RELEASED OVER WEEKEND
To access all guidelines released thus far, please visit here.
Canoe liveries and recreational paddling
Local pools, public pools and aquatic centers
Restaurants, bars, and banquet/catering facilities
---
May 22, 2020
OHIO HAS LOST 51% OF ITS LEISURE AND HOSPITALITY JOBS
Ohio's leisure and hospitality job losses represent a third of all jobs lost in Ohio since April 2019 with 289,100 jobs lost. This represents 42% of service jobs lost including those in leisure and hospitality, trade and utilities, professional and business services, educational and health services, financial activities and information services.
TRAVELER SENTIMENT SHOWS DIVISION
Longwoods International's weekly survey of traveler sentiment reveals the following:
Americans are still very much divided about welcoming visitors back – 31% in favor and 45% against
Only about a third of Americans indicate they feel comfortable dining in restaurants, while almost half say they are not comfortable in doing so
More travelers are changing their plans from fly to drive vacations/getaways
The percentage of American travelers who say that coronavirus will greatly impact their travel decisions in the next six months ticked up slightly for the first time in six weeks to 60%, while concerns about the economy impacting their travel decisions declined a bit. This is reflecting the increasing debate and worry over re-opening too soon
---
May 21, 2020
EVENT CENTERS CAN OPEN JUNE 1 WITH 300 MAXIMUM CAPACITY
Catering and banquet centers can reopen under the restaurant guidelines on June 1. Capacity is limited at 300 persons.
Bowling alleys and miniature golf guidance will be on the Ohio Coronavirus site today or tomorrow.
OHIO TRAVEL ASSOCIATION INDUSTRY BOARD REQUESTING GUIDELINES AND REOPENING DATES
Guidelines for many of our travel-related entertainment businesses have been completed and are awaiting approval from the Governor. Recognizing that many of our businesses need reopening dates as soon as possible to be ready to open as soon as permitted, members of the Ohio Travel Association board have signed onto a letter to be sent to the Governor and Lt. Governor requesting that guidelines and reopening dates are released as soon as possible.
Dear Governor DeWine:
Thank you for everything you and Dr. Acton have done to keep us all safe. We recognize the enormity and complexities of the tasks, particularly as the economy is reopened.
One sector of the economy, however, is still at a painful standstill. We respectfully request reopening guidance and reopening dates as soon as possible for Ohio's museums, entertainment venues, attractions, recreation providers and other similar businesses who remain closed.
Ohio's travel businesses are prepared to open, and most have detailed safety plans in place already. These businesses actually have even greater control over customer interactions than many of the businesses already opened. As an example,
Capacity can be reduced/managed to allow for appropriate social distancing.
Exposure time is limited. Guests generally move throughout their experience. Most guests are not sitting in a single location, elbow-to-elbow, for an extended period.
A large percentage of attraction attendance is made up of family members and others who live in the same home and thus do not need to be physically distanced from each other.
These businesses require notice of reopening so they can stock supplies and hire employees. So having reopening dates soon allows them to prepare so they are ready to go when permitted.
Many of these businesses depend heavily on the next three months to maintain payroll throughout the year. Every day counts. Thus far, more than half of all travel-related jobs have been lost in the US, and the unemployment within these businesses represent 38% of overall national job losses.
As of May 9, year-over-year travel expenditures in Ohio this week are down $522 million or 86%. This reduced spending has led to $15 million in lost state tax revenues. More than 430,000 FTEs are employed in Ohio's travel economy.
Because of the seasonality, the need to be ready to open as soon as they can is vital for these businesses and their employees. Using the guidelines already developed, the Ohio Travel Association has been working with more than 400 businesses throughout the state thus far in helping them adapt safety protocols for their customer experiences. Upon release of new guidelines, we will continue to work with those businesses to ensure they are ready.
As industry leadership for the Ohio Travel Association, we thank you for your consideration.
CHARTER FISHING AND FISHING GUIDELINES RELEASED
Guidelines for the following are now available:
---
May 20, 2020
TRAVEL RESTRICTIONS EASED, MASS GATHERINGS STILL LIMITED TO 10
Earlier this week, Governor Mike DeWine indicated amendments to the Public Health Order issued May 1 would be released and that an Urgent Health Advisory would be issued. Both the Urgent Health Advisory and Public Health Order were released the evening of May 20. The existing Stay Safe Ohio Order expires May 29 and is still in effect except for those items rescinded and amended in the new order.
Here are the changes you need to know:
Ohioans are no longer required to stay at home. Those not at high-risk are advised to take precautions to limit the spread of the disease and it is recommended (but not required) to stay at their place of residence
Elderly and those with pre-existing conditions that make them more vulnerable are strongly urged (but not required) to stay at home and to avoid places where they may be exposed
Those entering the state no longer have to self-quarantine for two weeks
Any gathering of more than 10 persons is still prohibited, except for weddings, funerals, and religious gatherings as outlined in the original order. Wedding receptions are still restricted to 10 (although we heard this week that the governor is considering lifting that restriction if venues follow restaurant guidelines).
Business guidelines for reopening must be followed
Those exhibiting COVID-19 symptoms or who have tested positive shall not enter the state unless for medical reasons as outlined in the new Public Health Order.
Guidelines for reopening entertainment businesses are completed and at the governor's office for approval. We anticipate reopening dates and guidelines will be announced soon
---
May 19, 2020
GOVERNOR REPLACES STAY-AT-HOME ORDER WITH A NEW HEALTH ADVISORY
Governor DeWine announced today that the existing Stay At Home Order has been replaced with an Urgent Health Advisory. Copies of the new Order should be posted on the Ohio COVID-19 website soon.
Although copies of the order are not yet available, here are a few items we picked up from statements made during the press conference itself.
Two-week quarantines for those entering the state are no longer recommended.
Social distancing of six feet, a limit of 10 people for mass gatherings; frequent hand-washing; and other sanitizing efforts are included.
It incorporates all of the business guidelines currently available, including the requirement for employees to wear masks.
The order strongly recommends that high-risk Ohioans stay at home as much as possible.
It recommends (but does not require) all other Ohioans to stay at their place of residence when possible with the intent of lowering the rate of spread of #COVID-19.
He said that while unnecessary travel within or outside of the state of Ohio is still permitted, it is not encouraged.
CLARIFICATION OF RESTAURANT ORDER TO MANDATE SEATED PATRONS, LIMITS RESERVATIONS TO GROUPS OF 10
For those of you planning on processes for food service, take note! The original restaurant guidelines developed by the taskforce did not require patrons to be seated; however, the Ohio Public Health Dine Safe Order released May 14 states, "Customers must be seated when consuming food, beer, wine and liquor on the premises of the business."
Also included in the Dine Safe Order but not the guidelines is "Reservations are to be limited to no more than 10 persons."
OTA highly recommends that you review the original Dine-Safe Order as well as the guidelines.
GOVERNOR ADDRESSED WEDDING RECEPTIONS
When asked about whether or not caterers and event managers could proceed with wedding receptions if they followed restaurant guidelines, the governor said he is looking at this possibility and should have guidelines soon.
BWC TO DISTRIBUTE FACIAL COVERINGS FOR YOUR EMPLOYEES
Employers participating in Bureau of Workers Compensation will receive packages with at least 50 facial coverings for your employees.
AMERICAN TRAVELER SENTIMENT SURVEY SHOWS UPTICK IN COIVD-19 IMPACT ON TRAVEL
View full report here
Americans are still very much divided about welcoming visitors back – 31% in favor and 45% against
Only about a third of Americans indicate they feel comfortable dining in restaurants, while almost half say they are not comfortable in doing so
More travelers are changing their plans from fly to drive vacations/getaways
The percentage of American travelers who say that coronavirus will greatly impact their travel decisions in the next six months ticked up slightly for the first time in six weeks to 60%, while concerns about the economy impacting their travel decisions declined a bit… This is reflecting the increasing debate and worry over re-opening too soon
---
May 18, 2020
NONCOMPLIANCE CAN RESULT IN REVOKED LIQUOR LICENSES AND LEGAL ACTION
The governor spoke today about how Ohio's economic recovery is directly linked to how well businesses maintain social distancing and create safe places. As a result of some noncompliance issues over the weekend, an Ohio law enforcement unit has been activated to conduct safety compliance checks with businesses, particularly bars and restaurants. They will issue citations that could result in revocation of liquor licenses and will work with municipal prosecutors to take potential criminal action against those not in compliance. Individuals can also be cited.
He reiterated that those serving food and beverages must have customers seated.
AMERICAN TRAVELERS SHOWING INCREASED INTENT
Destination Analysts surveys 1,200 American travelers weekly. Key findings of their May 18 results follows:
32% who say they are willing to engage in activities in their own community is at a 9-week high
Increasing numbers of Americans are feeling it's safe to go shopping (36.0%), visit friends and relatives (43.5%), take a road trip (49.3%) and engage in (non-team) outdoor recreational activities (56.9%).
Travelers in the Midwest and South have the relatively least concerns about the virus, are most optimistic that the coronavirus situation will stay the same or improve in the next month and demonstrate the most agreement that they will be traveling in the fall.
American travelers are demonstrating increased comfort with (or in spite of) their concerns surrounding COVID-19.
Travel planning is happening.
Marketing could be effective in swaying travelers to choose a specific destination.
Travelers need destination-level information on safety.
Rural residents are the least comfortable with tourists presently, setting up potential tensions with travelers desiring the types of assets found in these places.
Travel remains recognized for its positive emotional benefits for families.
A REMINDER OF GUIDELINES POSTED
Guidelines for tennis and golf are posted, along with the following on Responsible RestartOhio.
We remind you to consider the visitor experiences you offer at your place of business. For example, if you are an attraction, you likely have retail, general office operations and food service. Resorts are likely to have tennis courts, pools, restaurants, etc. Take a look at the guidelines already approved to make sure your reopening plan is in compliance.
Campgrounds
Day camps
Retail
Restaurants
General offices
Pools and aquatic operations
Manufacturing
Tennis court operators
Golf course operators
Adult and youth baseball and softball leagues
---
May 14, 2020
CAMPGROUND FULL OPENING DATE RELEASED - THURSDAY, MAY 21
Lt. Governor Husted announced during today's press conference that Ohio campgrounds will have a full reopening Thursday, May 21st. View the guidelines here.
---
May 13, 2020
AMERICAN VALUES, MEETING THE MAKER, SHARED SHOPPING AMONG EXPERIENCES LIKELY TO BE DESIRED THIS SUMMER
There's growing optimism and a strong desire for travel.
Based on research patterns and conversations with readers, Melissa Luebbe, publisher of Midwest Living, shared information on consumer attitudes, as well as expectations for future travel demand during "Consumer Insights and Communication in COVID Times," the first in a series of travel marketing webinars hosted by the Ohio Travel Association.
During today's webinar, she shared findings on content most in demand right now, tips for marketing based on travelers' expectations and reactions, travel patterns to anticipate this summer, and insights into what changes in traveler behavior and demand are likely to linger.
Some of the most interesting findings relate to the near-term travel demands we should anticipate. Some – such as multigenerational travel and the desire for local 'everything' – aren't new but are being accelerated. Others – such as those celebrating pride and resilience - are being shaped by our pandemic experiences.
Among those travel experiences likely to be most sought-after this summer and fall?
American Values – travel experiences that celebrate pride and resilience of Americans
Small Towns and Small Businesses – not only because of their rural settings, but because travelers better understand the importance of small businesses and want to show their support
Meet the Makers – similar to the first two just shared, this includes personally meeting shop owners, chefs, artisans, etc. It's taking the desire for local goods to a much higher level.
Weekend Getaways – there are indications that the value of leisure and the opportunity for travel is raised to an all-time high, as travelers are indicating they may take more weekend getaways with friends and families
More Coasts, Less Crowds – open spaces, particularly lakes and rivers
Shared Shopping Experiences – after being prohibited, shopping in stores has a new appeal, particularly those shops who offer experiential opportunities
Entertainment – there's a thirst for entertainment and escapism, particularly stories of solidarity, togetherness, kindness and helping each other.
Multi-generational – with more multi-generational living occurring during the pandemic, multi-generational travel is expected to grow at an even faster rate
Outdoors – open spaces and the great outdoors will be in-demand, as will open-air dining and entertainment
Attendees during today's webinar will meet online tomorrow to share ideas and brainstorm ways to implement strategies based on what they learned.
To learn more about future webinars focused on marketing, please visit here.
---
May 12, 2020
UPTICK IN TRAVELERS WANTING INFORMATION ON TRAVEL DEALS AND OFFERS
According to this week's Longwoods International Travel Sentiment Study, 77% of those planning to travel in the next six months are changing their plans. While 49% canceled trips; 46% are reducing plans. 22% are changing plans from fly to drive, down from 25% last week.
One bright spot is that when asked about information of interest, 54% (versus 45% last week) said they are looking for deals or offers for travel, dining and entertainment for future use.
MASSAGE, ACUPUNCTURE THERAPY AND COSMETIC THERAPY TO OPEN MAY 15
Reopening guidelines for these personal services will be posted here.
LOCAL HEALTH DEPARTMENTS CAN INCREASE REOPENING STANDARDS AND DELAY OPENINGS
The Lt. Governor said during the press conference today that local health departments have the authority to increase reopening requirements and delay openings. They do not have the authority to lower the requirements or open businesses earlier.
LAKE ERIE PROTECTION FUND PRIORITIZES TOURISM
Among its strategic priorities for funding and support over the next two years, the Ohio Lake Erie Commission included goals for beach and recreational use, as well as the tourism economy and jobs in the new Lake Erie Protection and Restoration Plan.
NATIONAL FOREST OUTDOOR RECREATION GRANT AVAILABLE
The National Forest Foundation announced Round 2 funding with 1:1 match is available. Included in the priorities are improving or maintaining recreation resource connectivity on National Forest lands including trail maintenance, bridge and crossing construction or repair, and installation of trail drainage structures.
---
May 11, 2020
REOPENING GUIDANCE FOR ATTRACTIONS PROVIDED BY IAPPA
While an Ohio taskforce is working to provide required and recommended reopening guidance for attractions in the state, a new resource is available to help you plan for reopening.
COVID-19 Reopening Guidance: Considerations for the Global Attractions Industry
Detailed reopening guidance for attractions, theme parks, amusement parks, water parks, family entertainment centers, zoos, aquariums, museums, science centers, and other entertainment and cultural attractions is available from IAPPA.
The report provides guidance for rides, exhibits, food and beverage operations, retail operations, procurement and other customer experiences and managerial operations, including messaging.
Within the report, IAPPA clarifies the distinct differences between an attraction and other venues for mass gatherings such as sports arenas, movie theaters, and concerts:
Capacity can be reduced/managed to allow for appropriate social distancing.
Seating positions in rides and attractions are controlled by employees.
Exposure time is limited. Guests generally move throughout their experience, much like in an inter-city district or zone. The guests are not sitting in a single location, elbow-to-elbow, for an extended period.
A large percentage of attraction attendance is made up of family members and others who live in the same home and thus do not need to be physically distanced from each other.
OHIO LIQUOR REBATE PROGRAM PROVIDES HELP FOR RESTOCKING SHELVES
To help bars and restaurants restock their shelves, liquor rebates of $500 will be provided. Visit here to register.
OHIO TRAVELER SPENDING IS DOWN 86% - A $522 MILLION LOSS THUS FAR
US Travel reports 86% less travel spending in Ohio as of 5/2. This is a $522 million loss year-over-year. As a result, state tax returns from travel businesses to-date are down $15 million, local tax returns are down $9 million and federal tax returns are down $33 million.
---
May 8, 2020
STUDY ON INTENT TO VISIT ATTRACTIONS IS PROMISING
IMPACTS has spent eight weeks monitoring intentions to visit cultural attractions. It's most recent study ending May 2 shows people intend to return to "normal" visitation patterns within three months, and intentions to visit within one month are quickly recovering. They compare intent to visit from 2019 to intent to visit now. Key findings include:
People are more likely to visit attractions that allow for freedom of movement compared to those in confined spaces where they are seated
Travelers expect businesses to exhibit that they've made changes to public safety. In fact "only one in four feel comfortable attending a museums, aquarium or historic site without changes that prioritize public safety." Only one in seven feels the same way about a performance-based attraction.
21% of those in Indiana, Michigan, Pennsylvania and Ohio intend to visit a cultural attraction within three months.
This firm also provides the following recommendations based on its research:
Your past visitors are more likely to visit early. Prioritize donors, members and past visitors first.
Those with household incomes greater than $100k are more likely to visit first, spend more in-site and come back more often.
Availability of a vaccine (85%), lifting of restrictions (65%), seeing others visit (61%), ability to be outdoors (48%), availability of hand sanitizer (34%), reopening your doors (34%), no changes needed (23%), avoiding long lines of people (24%), limits on crowds (19%), onsite health monitoring (13%) and knowing facility cleaning procedures (10%) are what people said would make them comfortable going to a museum, zoo, aquarium, concert or theatre again.
---
May 7, 2020
OHIO RESTAURANTS OPENING DATES ANNOUNCED: OUTSIDE DINING IS MAY 15; INSIDE DINING IS MAY 21
Governor Mike DeWine announced during today's press conference that Ohio restaurants will open outside dining Friday, May 15, and inside dining on Thursday, May 21. To see the list of guidelines, please visit the Sector Specific Operating Requirements page.
CAMPGROUNDS WILL HAVE MORE INFORMATION ON REOPENINGS WITHIN THE NEXT FEW DAYS
Governor DeWine said campgrounds will have more answers on when they can open within the next few days.
COSI FEATURED IN VIDEO SHOWN DURING PRESS CONFERENCE
COSI CEO Dr. Frederic Bertley shared a video about their Digital COSI Science Festival and showcased COVID-19-specific science demonstrations.
NO PRESS CONFERENCE WILL BE HELD FRIDAY, MAY 8
The Governor stated that unless something imperative comes up, they will not be holding a press conference tomorrow (Friday, May 8). Press conferences will resume Monday, May 11.
ODNR TO RESUME SALE OF NON-RESIDENT HUNTING AND FISHING LICENSES ON MAY 8
ODNR Division of Wildlife will resume the sale of non-resident hunting and fishing licenses on May 8. For more information, please visit http://wildlife.ohiodnr.gov/
---
May 6, 2020
ACTION NEEDED TO SUPPORT CVB, CHAMBER, AND OTHER TOURISM FUNDING
Today, Reps. Pappas (D-NH), Fitzpatrick (R-PA), Cisneros (D-CA) and Steube (R-FL) introduced H.R. 6697, the "Local Chamber, Tourism, and 501(c)(6) Protection Act of 2020," which would allow all types of destination marketing organizations—including both 501(c)(6) and quasi-governmental entities—with less than 300 employees eligibility into the Paycheck Protection Program.
As a 501(c)(6) organization as well, this bill also helps the Ohio Travel Association.
The bill is an important first step as Congress begins to negotiate that next relief package, but with your help, we can have an even bigger impact.
Please contact your representative TODAY and ask them to cosponsor H.R. 6697.
WHAT WILL MAKE PEOPLE COMFORTABLE TO VISIT?
Any type of attraction can learn from this research of museum-goers. Whether or not a museum-goer will be ready to visit a museum after reopening depends on three main factors (adapted from research from Wilkening Consulting and the American Alliance of Museums).
Individual attitudes based on their individual and family health concerns, age and personality
The type of attraction. Most feel zoos, gardens and outdoor history spaces will open visitors back soon than indoor museums. "Hands-off" museums will fare better than interactive ones unless changes are made. Guided tours and theatre settings.
Attractions that won't require an overnight stay will fare better for awhile.
Most museum-goers expect to see that you have new procedures in place, and they want to see staff cleaning surfaces, hand sanitizer stations, crowd management and contactless systems (such as ticketing, doors, maps, etc.).
RECOMMENDED GUIDELINES FOR MUSEUMS RELEASED BY OHIO MUSEUMS ASSOCIATION
Our colleagues at the Ohio Museum Association just released reopening guidelines you may consider when developing your business public safety plan.
RESEARCH INTO ONLINE AND VIRTUAL CONTENT AMONG MUSEUM-GOERS
Interesting research on the types of content people are using right now and why is relevant whether you are a museum, other attraction, DMO or any other business trying to stay connected. Research by Wilkening Consulting for the American Alliance of Museums identified the following highlights:
People want short snippets more frequently than longer-form content
Although the demand for longer-form content isn't as high, museum-goers say it's often more meaningful and effective. Examples cited include the following:

ways to meet staff (not just the curators)
virtual tours
cooking demonstrations, lessons, writing seminars, etc.
lectures, author discussions

Don't re-hash existing content. People want new, relevant and meaningful content
Online content opportunities are difficult to find. How we organize our content is key.
---
May 5, 2020
STATE BUDGET CUTS ANNOUNCED
Governor DeWine announced a $775 million reduction in the state's budget. In making the announcement, the governor said he would avoid drawing down rainy day funds for the next two months in favor of making cuts in an effort to balance a budget currently $776.9 million below estimates as of the end of April. "We are going to need that money, that rainy day fund, for next year and possibly the year after," he said.
During his daily briefing, the governor said the spending cuts will be implemented over the next two months and will target:
Medicaid spending ($210 million)
K-12 foundation payments ($300 million)
Other education line-items ($55 million)
Higher education ($110 million)
All other state agencies ($100 million)
When asked about whether or not H20 agricultural applications to help with the algal bloom situation was cut, the Governor said the state is no longer accepting applications due to budget issues, but they remain committed to the program.
ADDITIONAL INFORMATION ON NEW OPENINGS COMING THURSDAY
The Governor said he will be reviewing guidelines from day care, restaurants/bars and personal services tomorrow. He said he anticipates to talk about these openings on Thursday. Several other industry groups are meeting for the first time in the next couple days, including those related to tourism.
NO PRESS CONFERENCE WILL BE HELD WEDNESDAY, MAY 6
The Governor stated that unless something imperative comes up, they will not be holding a press conference tomorrow (Wednesday, May 6).
TRAVEL SENTIMENT STUDY SHOWS LIKELIHOOD OF TRIP TYPES
Longwoods International released Wave 8 of its Traveler Sentiment Study The study was fielded during the last week of April.
Those planning to change future travel plans heading back down again
Change from long-haul to drive markets is showing increased movement
Concerns about COVID-19 remains top concern at 55% greatly impacting decision to travel, with economic concerns at 22%
Intent to travel stays flat around 70%
Road trips for visiting friends and relatives followed by road trips for leisure getaways are first on the list once travel can resume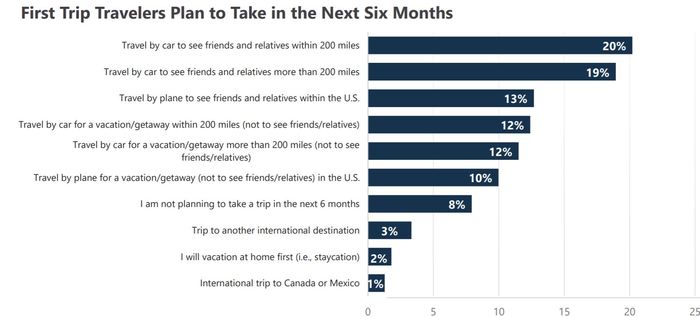 ---
May 4, 2020
RESTAURANT PROTOCOLS AND OPENING DATE TO BE RELEASED THIS WEEK
Governor Mike DeWine said a restaurant working group is putting finishing touches on protocols for opening restaurants. He said the guidelines and an opening date will be shared this week. Businesses represented on the taskforce developing guidelines can be found here.
MARINAS ABLE TO OPERATE
Governor DeWine clarified today that marinas are permitted to operate with the overall business guidelines already shared and by complying with no gatherings of more than 10.
EMPLOYEES CAN REPORT BUSINESSES TO LOCAL HEALTH DEPARTMENTS
Employees will be able to call their local health department if they don't feel as though public safety protocols are in place at their place of employment. As a business owner/manager, it will be important to establish policies and mechanisms for employees to make suggestions and submit grievances internally to avoid this action.
---
May 1, 2020
GOVERNOR DEWINE ANNOUNCES A TRAVEL AND TOURISM WORKING GROUP IS BEING ASSEMBLED
Governor DeWine announced today that a working group for travel and tourism is being assembled to gather best practices and resources for a future reopening. Other working groups being assembled include but aren't limited to:
Outdoor recreation (including campgrounds)
Restaurants
Theater and arts
Adult sports, youth sports, and gyms
Professional sports
Childcare and adult daycare
Hair services
NEW OHIO STAY SAFE ORDER RELEASED
The May 1 Ohio Stay Safe Order has been released. During today's press conference, both the Governor and Lt. Governor reiterated that Ohioans should not be fixated on the May 29th expiration. Today's newly released Stay Safe Ohio order itself will be superseded as they issue new orders throughout the month of May. The verbiage change from "Stay at Home Order" to "Stay Safe Ohio Order" was on purpose; the DeWine administration restated that home is still the safest place, but recognized that more and more Ohioans will be going out through the month of May due to the reopenings.
RETAIL STORES INCLUDED IN THE RECENT REOPENING STRATEGY CAN BEGIN MAKING APPOINTMENTS FOR CUSTOMER VISITS ON MAY 1
Governor DeWine announced that retail stores (the ones approved to begin reopening on May 12) can slowly begin to make appointments for customer visits starting today, May 1. However, retail stores still aren't permitted by the new order to fully open until May 12.
RESTAURANTS SHOULD HAVE AN ANSWER NEXT WEEK ON WHEN THEY CAN REOPEN
During the Q&A portion of today's May 1 press conference, Governor DeWine stated that the restaurant industry should have a more concrete answer next week on when they can begin their reopening process.
WHEN WILL WE KNOW MORE ABOUT CAMPGROUNDS?
There is a provision in the Stay Safe Ohio Order about campgrounds including recreational camps being closed excluding those residing in an RV as residence. More details on this can be found in the new order on Page 6, Item 13. Governor DeWine reiterated that they are working on campground best practices for a future and more inclusive reopening. Governor DeWine recognized that people can be in their own tents and continue to social distance, which is why they are collaborating with a working group to discuss best practices for reopening. They hope to work this out within the next several weeks.
OHIO TRAVELER SPENDING IS DOWN 86% - A $524 MILLION LOSS THUS FAR
US Travel reports 86% less travel spending in Ohio as of 4/30. This is a $524 million loss. As a result, state tax returns from travel businesses to-date are down $15 million, local tax returns are down $9 million and federal tax returns are down $33 million.
---
April 30, 2020
CLIFF BAR FOUNDATION OFFERS SMALL GRANTS FOR ORGANIZATIONAL SUPPORT AND SPECIAL PROJECTS
The Cliff Bar Foundation is offering grants to 501 ( c ) 3 organizations for several priorities, including encouraging outdoor recreation and building strong communities. Access the RFP here.
OHIO CAMPGROUND OWNERS SUBMIT PUBLIC HEALTH PLAN TO THE ADMINISTRATION
If you are a campground (or offer camping), here is the Phase One Campground Safety Protocols developed by the Ohio Campground Owners Association. These have been submitted to the Governor for consideration and are not final. These do, however, provide you with some guidance for developing a plan for your business.
OHIO TRAVEL ASSOCIATION HOSTS WEBINAR DISCUSSING GOVERNOR'S REOPENING PLANS
On Tuesday, April 28, Ohio Travel Association's Executive Director Melinda Huntley hosted a webinar discussing Governor's Dewine's reopening plan. During this webinar, various updates and resources were provided to help travel businesses navigate these challenging times. To view the webinar recording and Q&As, click here.
NEW SERIES OF TRAVEL MARKETING WEBINARS AVAILABLE TO HELP YOUR BUSINESS PROSPER DURING THE PANDEMIC
We are releasing a new series of Travel Marketing Webinars designed to bring you the latest tools, tactics, and resources from the comfort of your home starting in May. Tap into a variety of key topics including tourism content marketing, media relations and PR, print and digital advertising, and more. After attending these webinars, you will walk away with time-relevant content and information, new research, and advice on how to tackle the new customer journey. To learn more about these new marketing webinars and how they can help your business, click here.
---
April 29, 2020
CLARIFICATION ON FACE COVERINGS - MUST BE WORN BY ALL EMPLOYEES WITH A FEW EXCEPTIONS
Customers will not be required to wear face coverings. A business may choose to make face coverings mandatory in order to help keep employees, guests and suppliers safe. If a business chooses to make face coverings mandatory for customers/guests, that business should develop its own policies on how they will enforce compliance.
Face coverings ARE REQUIRED to be worn by all employees. Exceptions are permitted for the following:
when an employee in a particular position is prohibited by law or regulations to wearing a mask
when wearing a face covering is against documented industry standards
when wearing a face covering can't be done because of personal health purposes
when face coverings are a violation of a company's safety processes
when an employee is sitting alone in an enclosed work space
when there is a practical reason a face covering can't be worn by an employee (ie., extreme heat conditions).
Businesses who feel their employees fall into one of these exceptions must document the reason why they are not requiring masks for their employees based on one or more of the above exceptions.
A reporter asked whether or not a business is liable if it doesn't mandate face coverings. The governor indicated that this is a new area so precedent hasn't been set as of yet.
NEW ORDER ON MAY 1 CONTINUES PROHIBITION OF MASS GATHERINGS OF 10 OR LESS
The Governor stated in today's press conference that the mass gathering restriction of 10 or less will continue in the new order to be released May 1.
GOVERNOR ADDRESSES REMARKS HE MADE YESTERDAY ABOUT CONTINUATION OF GRADUATION CEREMONIES
Yesterday, during the same press conference the Governor said he is concerned about communal locations at campgrounds, he said graduation ceremonies could continue with proper physical distancing.
He clarified today that mass gatherings cannot be held. He said virtual ceremonies are the first preference, while drive-in ceremonies are the second option. A third preference is an event where 10 or fewer persons are present and all are following physical distancing.
FREQUENCY OF CLEANING IS ESSENTIAL
Ohio Public Health Department Director Amy Acton said frequency of cleaning is one of the most important things you can do to keep surfaces safe. From an operations perspective, consider that you must clean surfaces more frequent and between touches if at all possible (as this was a requirement for retail operations). If you are unable to source cleaning and disinfecting products, click here for some advice on mixing your own.
---
April 28, 2020
FACIAL COVERINGS NO LONGER MANDATED FOR RETAIL - HIGHLY RECOMMENDED, HOWEVER
Facial coverings are no longer mandatory for employees or customers at retail businesses. The Governor announced this change 24 hours after the original announcement was made. He reminded all that "It is clearly in the best interest of Ohioans to wear a mask when retail shopping." Businesses should do what they need to do to make their employees and customers feel safe. Additional guidance is forthcoming. Again, the employer can make a policy whether or not to require customers, suppliers and employees to wear facial coverings.
COMMON AREAS AT CAMPGROUNDS CITED AS A CONCERN
When asked about campgrounds getting back to business. What he worries about is groups not staying within their own tribes (groups) and not staying in tents and trailers and away from common areas. The Governor said work will be done on developing protocols this month.
The governor tweeted later that he is going to look at campgrounds. "The basics of what we worry about are groups coming together - particularly groups that are not of the same family. With campgrounds, you worry about common areas. We are trying to figure out how you can go camping in a way that is safe."
---
April 27, 2020
This afternoon, Ohio Governor Mike DeWine released plans for the first phase of reopening Ohio businesses. The following are the dates when these businesses may reopen if they are following mandatory public safety guidelines. Documents detailing the requirements and "best practices" are linked where available.
May 1
Nonessential health care providers, including dentists.
May 4
Manufacturing, distribution and construction
May 12
Continued business closures are detailed here, and include entertainment facilities, museums, restaurants, festivals, and others. Please lead the link for a complete list.
Additional announcements for business re-openings will occur following these dates pending on the public health results.
Read the documents provided above, however, as there may be areas of your operation aligned to these work environments. For example, if you are a zoo, your office operations should follow the general office environment requirements, while your retail will follow the consumer, retail and services requirements.
Required Protocols (click here for more information)
In order to reopen (even if it's at a later date), the following measures are required:
No mask, no work, no service, no exception. Require face coverings for employees and clients/customers at all times.
Conduct daily health assessments by employers and employees (self-evaluation) to determine if "fit for duty." These are self-evaluations at minimum.
Maintain good hygiene at all times – hand washing, sanitizing and social distancing.
Clean and sanitize workplaces throughout workday and at the close of business or between shifts.
Limit capacity to maximum of 50% of fire code. Use appointment setting where possible.
If your business is still operating under the existing stay-at-home order, you will be ordered to comply with the required protocols by May 1.
LIVE WEBINAR: DISCUSSING THE REOPENING PLAN
Join us tomorrow, April 28 at 10 a.m. EST for a webinar discussing Governor DeWine's Reopening Plan. Executive Director Melinda Huntley will walk through the plan, outlining the restrictions, guidelines, and answering any questions you might have.
To confirm access to the webinar, please register in advance here.
---
April 25, 2020
MANUFACTURING ALLIANCE OFFERS ONLINE EXCHANGE FOR MASKS, SANITIZERS, PARTITIONS
An online Ohio marketplace of equipment needed to keep your guests and workers safe is available. This exchange is best suited for small businesses and includes masks, sanitizers, gloves, partitions and other items you may need.
---
April 24, 2020
GOVERNOR SAYS NEW BUSINESS REQUIREMENTS WILL BE STRICTER THAN ORIGINAL ORDER
Governor DeWine indicated that business requirements to be released Monday will be stricter than what is in the existing stay-at-home order (see these requirements below). In addition to identifying mandatory requirements for re-opening, Monday's plan will include "best practices." As an example, Lt. Governor Jon Husted said taking temperatures of employees every day may not be feasible for every business.
As a reminder, the following measures were required of Essential Businesses and Operations in the latest order:
Designate six-foot distances. Designating with signage, tape or by other measures six-foot spacing for employees and customers in line to maintain appropriate distances;
Hand sanitizer and sanitizing products. Having hand sanitizers and sanitizing products readily available for employees and customers;
Separate operating hours for vulnerable populations. Implementing separate operating hours for elderly and vulnerable customers; and
Online and remote access. Posting online whether a facility is open and how to reach the facility and continue services by phone or remotely.
The Lt. Governor said nothing will be "coming that isn't already in place at businesses in Ohio." He says Essential Businesses have learned how to create safe workplaces in the last month and that what has been learned is contributing to the new requirements to be released Monday.
LACK OF SUPPLIES MAY KEEP BUSINESSES FROM OPENING
When asked about the supply of sanitizers and masks, the Governor said the marketplace will eventually take care of it. He said being able to open with the restrictions to be put into place Monday will depend on businesses having adequate supplies.
TESTS EXPANDED AND CONTACT TRACING WILL BE PUT INTO PLACE
Ohio has experienced COVID-19 test shortages. New suppliers have been identified, and the number of tests will increase by end of May. Contact tracing is also going to be put in place, allowing Ohio public health officials to trace those who've had close contact with individuals diagnosed with COVID-19. For businesses, this means if you have an employee, guest or supplier diagnosed with COVID-19, those interacting closely with this person will be asked to quarantine.
SURVEY FORECASTS CHANGES IN EXPERIENCES
Glimpses at how travelers may possibly change behaviors is available through research conducted by H2R Market Research on April 14. Although a relatively small sample size (603 American traveler respondents), the survey gives us a peek at what travelers are thinking.
When asked what consumer behaviors are likely to linger after the immediate crisis is over, the following were indicated:
Avoiding all non-essential air travel (46%)
Avoiding visiting indoor attractions where crowds may congregate (45%)
Avoiding public gatherings where large numbers of people may congregate (45%)
Avoiding public swimming pools and/or water park attractions (39%)
Staying close to home rather than traveling for leisure on getaways or vacations (38%)
Ordering takeout or delivery instead of dining in restaurants (28%)
Most (71%) indicated they will need to hear some sort of government "all clear" message before they will consider visiting a destination for leisure travel, but this is down 5% from early April. Whether or not a destination has new COVID-19 cases was identified by 47% and needing to see other travelers venturing out again was mentioned by 38%.
Historic landmarks/places (30%), national/state parks (27%), natural wonders (25%), history museums (20%), brewery/winery tours (19%), theaters (18%), zoos/animal attractions (18%), botanical gardens (17%), science centers (17%) and family entertainment centers (17%) topped the list of places they are most likely to visit.
Let's think about that list, however. If you look at the fact that survey respondents identified avoiding indoor attractions and crowds among the top behaviors they anticipated, many of the places they said they intend to visit are representative of these types of experiences. This indicates that it will be really difficult to measure any type of intent to visit until people are moving again.
It's also important to remember that intentions to visit these types of attractions weren't compared to data pre-COVID and doesn't measure changes in intention. We know that American travelers desire different kinds of experiences in general.
OHIO TRAVELER SPENDING IS DOWN 84% - A $511 MILLION LOSS THUS FAR
US Travel reports 84% less travel spending in Ohio as of 4/18. This is a $511 million loss. As a result, state tax returns from travel businesses to-date are down $15 million, local tax returns are down $9 million and federal tax returns are down $32 million.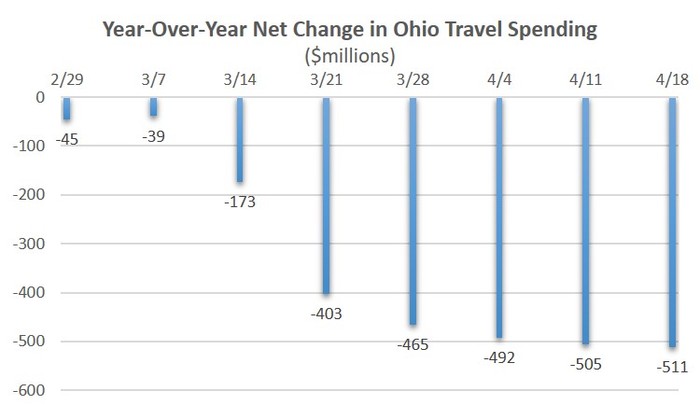 NEW UNEMPLOYMENT PROGRAM FOR THOSE WHO DON'T QUALIFY FOR EXISTING PROGRAM
Starting today, Ohioans who are unemployed as a result of COVID-19, but who didn't qualify for regular unemployment benefits, can pre-register for the Pandemic Unemployment Assistance program. Benefits are similar to traditional unemployment benefits, plus an additional $600 per week through July 25. Processing of claims begins in May is a retroactive. This program can assist the self-employed, part-time workers, those whose places of employment are closed, those personally effected by COVID-19 and other categories of workers. To register, visit here.
---
April 23, 2020
RE-OPENING STRATEGY TO BE RELEASED MONDAY
Governor DeWine said although Ohio will generally follow the guidelines for re-opening released by the White House, Ohio will make adjustments to that plan. The Ohio plan will be shared on Monday. Based on the Governor's responses to questions, it appears at least three weeks between phases will be implemented.
He spoke of re-opening as getting people back to work in businesses that represent the least risk. the rules and regulations that will be released Monday will also apply for essential businesses already working.
WHAT CAN BE DONE TO KEEP GUESTS, WORKERS AND DELIVERY PERSONS SAFE
A glimpse into what businesses can do to prevent the virus from spreading was shared by Mark Weireit, Ph.D. from The Ohio State University during a presentation today at the Governor's press conference. As you start to consider how to keep your workers, guests and delivery persons safe, think about these things.
The following controls act as barriers and should be stacked together to keep people safe. As an example, wearing a mask and keeping personal distancing is more protective than just doing one of those things.
Personal controls – Wearing masks, coughing into elbow, washing hands, not touching your face, personal distancing
Business-operated controls – Ensuring workers are healthy, personal distancing, cleaning product, cleaning frequency, considering types of surfaces and how long the virus lives on these surfaces which dictate how frequent surfaces may need sanitized. Choose disinfectant that has been tested for this virus.
Facility/building controls – Changing filters more frequently, choosing thicker and HEPA-rated filters thoughtfully based on their abilities to block transmission, ensuring your HVAC system is adequate.
The Lt. Governor summarized the measures by saying guidelines of distance, disinfecting and masking are solutions. He also said the guidelines released Monday will be strict and that there is no requirement for businesses to open. Dr. Weireit said consistency and vigilance are required.
WYNN LAS VEGAS SHARES ITS THOROUGH HEALTH AND SANITATION PROGRAM WHICH CAN HELP YOU THINK ABOUT MAKING YOUR BUSINESS SAFE
For a glimpse at what your business can do, here is a great example provided by Wynn Las Vegas. It talks about what this company is doing along the customer journey, as well as for multiple operations of its business, including casino operations, hotel, spas, retail, restaurants, and open spaces. Recognize that your business can glean some ideas from this report if you consider how your interaction of the public is similar.
JOIN US TRAVEL ON A WEBINAR NEXT WEEK TO TALK ABOUT POSSIBLE DMO FUNDING
To ensure all DMOs have the most up-to-date information on new federal funding programs, please join us for a webinar next Tuesday, April 28 at noon. On this webinar, we will address how to apply for the programs available to you and what additional funding recommendations are being made. Include in the discussion will be more details on a Federal Reserve program that 501(c)(6) nonprofits and other DMOs may be able to access. Brought to you by US Travel, please register here.
AMERICAN TRAVELER WEEKLY STUDY SHOWS INTENT TO TRAVEL
The latest Traveler Sentiment Study by Longwoods International (Fielded 4/15) has now been posted in our Resources section - Traveler Sentiment Study.
To view Longwoods President and CEO Amir Eylon walk through the data, view our April 22 webinar here. Highlights of this week's survey include the following:
21% of American travelers are shifting travel plans from fly-in to drive destinations which should benefit Ohio
Concerns about COVID-19 is impacting their decision to travel in the next six months, above concerns about transportation costs and economic issues.
72% of American travelers are planning to travel in the next six months. This indicate there will be a pent-up demand when it is safe to travel again.
Travel articles in printed magazines are being used the most to interact with travel content this week. Other top content included 2-3 minutes online videos, televised travel shows, travel guides, and live stream online videos.
---
April 22, 2020
WILL THE SUPPLY CHAIN BE READY FOR BUSINESSES THAT NEED SUPPLIES FOR REPOPENING DAY(S)?
Gov. Dewine ensured Ohioans that they are working with a team in their administration to get supplies in line for businesses who need them. However, he urged it is a work in progress and that in a short period of time, businesses should be able to get what they need. Gov. Dewine also said some of the masks needed for everyday operation can be made by local companies, private citizens, etc. Some of the supplies might not be ready right away, but he is optimistic the supply chain will have those needed supplies when the opening day(s) come for many businesses.
PPP AND EIDL PROGRAMS REPLINISHED BY US SENATE; NO EXPANSION TO 501C6 BUSINESSES
The following update is provided by our friends at US Travel. With both the Paycheck Protection Program (PPP) and Economic Impact Disaster Loans (EIDL) program out of funds, congressional leaders and the administration announced a deal today to replenish the programs and provide additional funding for hospitals and coronavirus testing. The U.S. Senate passed the measure late Tuesday afternoon, and the House is expected to take it up on Thursday.
The $481 billion agreement provides an additional $321 billion for the PPP, $60 billion for the EIDL program, $75 billion for healthcare providers and $25 billion to expand testing capacity (including $11 billion for States to increase testing).
This bill is intended to be narrow and specifically address PPP and EIDL funding shortfalls. To our disappointment, Congress did not make substantive changes to increase PPP loan amounts, provide more flexible loan forgiveness or expand PPP eligibility to organizations not already included in the CARES Act, including 501(c)(4) or 501(c)(6) nonprofits. Congressional negotiators continue to maintain that these changes will be considered in the next bill, and we will continue to push hard for this provision.
For a detailed summary of the bill, click here.
---
April 21, 2020
OHIO DEPARTMENT OF AGRICULTURE WILL WAIVE REQUIREMENTS THAT AGRICULTURAL SOCIETIES MUST PUT UP MATCHING FUNDS IN ORDER TO RECEIVE GRANTS
Gov. Dewine recognized that we don't yet know what Ohio's fairs will look like due to COVID-19. He announced the Ohio Department of Agriculture will waive requirements that agricultural societies must put up matching funds in order to receive $50,000 facilities grants. Fair managers will have to wait until May 30 to apply via the Ohio Department of Agriculture's website.
PEOPLES BANK AND FIRST FEDERAL HOME SAVINGS ANNOUNCE PARTNERSHIP TO HELP SMALL BUSINESSES MAINTAIN OPERATIONS AND PAYROLL
Peoples Bank (headquartered in Marietta) and First Federal Home Savings have announced a partnership to help existing small businesses maintain operations and payroll. JobsOhio is contributing $50 million and both banks. This will bolster each banks ability to provide help to more businesses, and ones who would not have traditionally qualified. Funds can be applied to things such as rent, fixed debts, and utilities, for example This puts much needed capital in the hands of small businesses that are critical to Ohio's economy.
BWC TO SEND FIRST ROUND OF CHECKS TO OHIO EMPLOYERS
Less than two weeks ago, Ohio Bureau of Worker's Compensation approved to send up to $1.6 billion in dividends back to Ohio employers intended to ease impact of COVID-19 on OH business economy. Yesterday, the first round of checks were mailed to employers to invest that money into the needs of businesses. A total of 170 thousand checks are to be mailed in next five days. The dividends equals approximately 100% of premiums paid in 2018. Approximately $1.4 billion will go to private employers, and $200 million will go to local governmental tax industries such as counties, cities, townships and schools.
OHIO HUMANITIES GRANT APPLICATION OPENS MAY 1
Ohio Humanities will be providing $750,000 in emergency relief grants for historical societies, museums, and other cultural organizations affected by COVID-19 health crisis.
Funded by the Coronavirus Aid, Relief, and Economic Security Act (CARES Act), the grants will help Ohio's cultural community mitigate revenue losses, maintain staffing levels, and protect collections. Applications for emergency grants will be available beginning on May 1; the applications will be accepted on a rolling basis starting on May 15 with the intent to offer the first awards by June 1. Funding will continue to be available throughout the summer. Later in the year, additional grants will be available to help cultural organizations deliver programs that maintain the health safety of patrons during a post-pandemic environment.
Ohio Humanities staff are available by email to help applicants navigate the application process to access emergency funding. Ohio Humanities will continue accepting grant applications for regular projects as listed on grants page. As OH CARES grants become available, more information will be posted at ohiohumanites.org/CARES
---
April 20, 2020
SAFETY PROTOCOLS FOR OPENING - ZERO OUT OR ZAP IT
What will be required before businesses can re-open? We do not think a step-by-step list is forthcoming, and certainly one will not be available for each business type. The reality is that those in the travel economy have many different business models and interactions with the public. Here is the advice OTA has been giving to businesses reaching out to us:
Establish a Zero Out or Zap It Team comprised of key employees.
For every point of interaction, brainstorm on ideas of how you can Zero Out - remove that interaction completely (such as not using employee time clocks or removing doorknobs) or Zap It - sanitize that interaction between uses.
Do some role-playing at your place of business to identify every point where a customer, employee or vendor is touching surfaces or interacting with others. You can do this virtually before actually getting on location if needed.
Recognize that there may be some experiences that will require too much manpower and/or supplies to open safely. Can you phase-in opening, starting with those who are easiest to manage.
It goes without saying that you should use physical distancing and wear masks during this exercise.
Start sourcing supplies of masks, gloves and sanitizing agents now.
Start thinking about ways to make your safety protocols known to instill confidence among guests and employees.
Start thinking about policies you can put in place to ensure employees and guests also follow proper physical distancing and safety protocols.
Look for more information regarding developing possible best practices in the next weeks.
SCHOOLS CLOSED THROUGH THE YEAR
Governor DeWine said K-12 schools will be closed through the end of this school year. No decisions have been made on starting up school in the fall.
---
April 17, 2020
UPDATED ECONOMIC IMPACT REPORT PREDICTS LOSS OF $519 BILLION TO THE US ECONOMY BY THE END OF THE YEAR
Oxford Economics released a new economic impact report April 16. They report that by opening travel businesses on a region-by-region basis, enhancing traveler safety measures, and a robust array of marketing campaigns to encourage travel among low-risk US residents, the economy can "flatten the curve" of losses. By mitigating losses in the second half of 2020, the US economy can see a decline of $401 billion instead of $519 billion and protect 1.3 million jobs.
Travel Industry Losses - A decline of 45% for the entire year is expected. This includes an 81% drop in revenue over the next two months and continued losses over the rest of the year reaching $519 billion.
GDP Losses - Travel industry losses will result in a cumulative GDP impact of $651 billion in 2020. We project the US economy to enter a protracted recession based on the expected downturn in travel alone. The recession is likely to last at least two quarters with the lowest point in the second quarter of 2020.
Tax Losses - A decline of $80 billion in taxes will be realized as a result of travel declines in 2020.
Employment Losses - The US economy is projected to lose 8.0 million jobs by the end of
April as a result of travel declines in 2020. The unemployment rate of 4.4% in March will rise substantially in the coming months. Travel-related employment losses alone will push the unemployment rate up to 8.4% by the end of April.
OHIO TRAVELER SPENDING IS DOWN 83% - A $505 MILLION LOSS THUS FAR
US Travel reports 83% less travel spending in Ohio as of 4/15. This is a $505 million loss. As a result, state tax returns from travel businesses to-date are down $15 million, local tax returns are down $9 million and federal tax returns are down $32 million.
FEDERAL GUIDELINES FOR REOPENING RELEASED
Please understand these Opening Up America Again guidelines released by the federal government are guidelines for states. Governor DeWine said he thinks it is a good plan; he also mentioned that every state has to "fashion a plan for the people of that state."
GOVERNOR INDICATES THAT THE PLAN TO RE-OPEN BUSINESSES WILL BE REVEALED NEXT WEEK
Getting Ohioans back to work while protecting employees and customers are the goals. The governor indicated that protecting our workers and customers is also good business, as both employees and customers are going to do business with those who make them feel safe.
Using a retail business as an example, he indicated the following are some examples of what may be seen:
6-foot or more distancing between people throughout the store
Workers wearing masks
Barriers where barriers are appropriate, such as where you can't practices the personal distancing
Frequent sanitizing of surfaces
Ample opportunity for workers and customers to sanitize and wash their hands
Staggered arrivals/lunches for employees
Workers wearing gloves
Employees who can work from home should work from home
Checking temperatures of employees
Limit in the number of people permitted into the store
---
April 16, 2020
GOV. DEWINE TELLS OHIOANS A PLAN WILL BE REVEALED SOON TO SLOWLY OPEN THE STATE BEGINNING MAY 1
Gov. Dewine told Ohioans today that his plans to start opening the state on May 1 will be revealed soon. He is optimistic that Ohio will live up to the challenge of doing things differently. They are going to release a plan soon identifying the strategy for opening businesses beginning May 1. It will likely be a phased approach. Certain protocols will have to be met - which haven't been confirmed yet.
ECONOMIC ADVISORS GROUP ASSEMBLED
The Governor's Economic Advisors group has been assembled to inform Gov. DeWine to address the economic crisis. Today, he received a glimpse of what they had come up with. It's a work in progress. No plan will guarantee that people will not get virus. During this stay at home time, the Governor's team learned a lot from the companies that were permitted to stay open (essential businesses). More will be shared in the coming press conferences.
LT. GOVERNOR ASKED TO DEVELOP BEST PRACTICES FOR BUSINESSES
Lt. Governor was asked to come up with best practices Ohio businesses. One company provides a good example: having PPE stock, screening for health upon entry, clearer guidelines on hygiene, ensuring their staff has no fever, cough or respiratory issues, making masks mandatory, communicating suspected cases of virus, etc. This is a good example of what employers need to put in place once Ohio reopens. The Lt. Governor expressed that they will start with companies that demonstrate they can do these things.
---
April 15, 2020
LIQUOR RENEWAL FEE REBATES BEING DISCUSSED
The Governor said in today's press conference that the state is working on a pro-rated return of liquor license fees. He said more information will be coming soon.
CLARIFICATION OF EXCHANGE STABILIZATION FUND AND PAYCHECK PROTECTION PROGRAM RELEASED
Exchange Stabilization Fund (ESF)
Municipal Bond Facility: States, cities, and counties will be able to issue bonds through a $500 billion program that is intended to help cover the cost of lost tax revenue. Only one issuer per state, city or county can participate in the program, but bond proceeds can be used to help instrumentalities or political subdivisions of the issuer, such as DMOs, manage cash flow issues resulting from reduced tax revenue. More information can be found here.
Main Street Lending Program: U.S.-based businesses with 10,000 employees or less, or those earning $2.5 billion or less last year, will be able to refinance existing loans or obtain new unsecured loans through a $600 billion program being developed by the Federal Reserve and Treasury Department. Loans will be provided through banks and credit unions, with no less than $1 million provided per loan. More information can be found here.
Corporate Credit Facility: U.S.-based corporations will be able to issue bonds or access loans through a $750 billion program being developed to inject capital into severely distressed businesses. Eligible businesses must have had an investment grade credit rating as of March 22, 2020, with some restrictions for those that have been downgraded since. More information can be found here.
Paycheck Protection Program (PPP)
Business Affiliation: The PPP will treat businesses on a consolidated basis if each is controlled, or can be controlled, by a common owner or manager or if the establishments have identical interests. However, those rules are waived for food and accommodation establishments (as classified under NAICS 72) with less than 500 employees, establishments that operate under a registered franchise, or those that have received financial assistance from a licensed Small Business Investment Company. More information can be found here or on the Treasury Department's website.
Calculating Payroll and Employees: Borrowers can calculate their payroll costs, as well as their number of employees, using data from either the previous 12 months of payroll or calendar year 2019. Seasonal businesses can use data from February 15 – May 9, 2019, or March 1 – June 30, 2019, and new businesses can use data from January 1 – February 29, 2020. For more information, please see the Treasury Department's FAQ.
---
April 14, 2020
E-LEARNING MATERIALS BEING ARCHIVED
TourismOhio is providing a
link
to lesson plans and learning materials that are being offered by our state's communities and attractions.
OHIO'S INDUSTRY HEROES AND INNOVATORS SOUGHT
TourismOhio is looking for Ohio heroes and innovators - those who are helping others and inventing new ways to assist those in need during the COVID-19 crisis. Help them discover the businesses and tourism industry employees in your area that are heroes and innovators by completing this
form
. They will use information gathered in promotions that recognize heroic actions and inspire others. Stories are being posted on
ohio.org
.
NEW TRAVELER SENTIMENT STUDY RELEASED
Longwoods International released its new traveler sentiment study today. 85% of American travelers are changing their travel plans for the next six months because of coronavirus, about the same percentage reported the last two weeks. Changing trips from international to domestic and from air travel to auto travel continue to occur but were less frequent than in previous weeks.
One bright spot in the survey results, the percentage of American travelers planning trips in the next six months rose slightly for the first time in four weeks, from 65% a week ago to 70% at the time of this survey, but still far below the 87% planning trips a month ago. The coronavirus pandemic continues to be a more significant factor affecting U.S. travel in the next six months, compared with concerns about the economy and transportation costs.
Of the travelers surveyed, 66% of them indicated that the coronavirus pandemic would "greatly impact" their decision to travel in the next six months, virtually unchanged from last week and up from 35% four weeks ago. The travel information of most interest to consumers at the time of this survey include local food delivery and take-out options (50%), ways to help local businesses and organizations impacted by the pandemic (49%) and deals and offers for future travel, dining and entertainment (49%).
DISPUTE RESOLUTION COMMISSION AVAILABLE IF YOU QUESTION WHETHER OR NOT YOUR BUSINESS IS ESSENTIAL
Whether or not a business is deemed essential is regulated by their local public health department. As one local health public department may rule differently than another, a dispute resolution commission has been formed. Look online for submitting a review request, as well as a summary of recent decisions.
SOURCE NOW TO FIND DISINFECTANT AND MASKS, AS WELL AS THINK ABOUT RECONFIGURING YOUR BUSINESSES, TO PROVIDE A SAFE WORKPLACE AND PLACE FOR GUESTS
Governor DeWine emphasized the need for businesses to start thinking about how to keep your workers and customers safe. He did not provide specifics requirements other than to say you will need your workers and guests to wear masks and that adequate disinfectant will be needed. You will also need to make sure you are maintaining adequate spacing.
A question was asked on how businesses can find the supplies that are needed, such as masks and disinfectants, when they aren't available. The Governor and Lt. Governor said this is a challenge and is one hurdle that will need addressed before opening the economy.
---
April 13, 2020
OHIO TRAVEL ASSOCIATION PROVIDES BEST PRACTICES FOR ACCELERATING RECOVERY
The travel economy, while the hardest hit sector during the coronavirus pandemic, will be vital to accelerating Ohio's economic recovery. An abundance of research identifies that an economy's recovery can be expedited following a time of crises through strategic travel promotion and encouraging travel spending. As Ohio is largely a domestic travel and drive market, we are well situated to emerge from this crisis with better results than travel markets that rely on international and fly-in travelers. But we need to start planning now.
Recognizing travel's integral role in economic recovery, the Ohio Travel Association has identified best practices for making this happen based on global research and feedback from hundreds of travel-related businesses throughout the state. Please access the plan below.
Recommendations focus on ways to minimize further economic harm, as well as how we may accelerate recovery as restrictions are slowly lifted. It has been shared with Ohio's Lt. Governor, the Development Services Agency and many members of the Governor's Economic Recovery Taskforce already. Feel free to share with your partners as well.
But please understand that the challenges ahead of us will require all of us working together. Over the next few weeks, we will be sharing specific actions you should take to make these recommendations a reality. We will also be giving you opportunities to share your ideas, particularly as we talk about how to address some of these strategies locally.
WORKING TO EASE RESTRICTIONS FOR SEASONAL USE OF CAMPGROUNDS
Campgrounds are closed according to the most recent stay-at-home order; however, there are Ohioans and others who own private RVs at Ohio campgrounds where they live seasonally or as a second home. Prior to the governor's order, Ohio Public Health had said use of campgrounds for these purposes were okay. Ohio Campground Owners and the Ohio Travel Association are working with the Lt. Governor's office to discuss whether these self-owned RV sites can be accessed by owners.
UNEMPLOYMENT ISSUES DISCUSSED
Ohio Lt. Governor Jon Husted said a team is working to enhance unemployment services, particularly for 1099 Ohioans. The Lt. Governor also said they are working to improve response systems for those filing for unemployment. Ohioans already receiving unemployment benefits should receive their $600 additional payment by the end of next week.
QUESTIONS RE OPENING UP THE ECONOMY
Governor DeWine said developing a plan for opening up businesses is a work in progress. He said additional information is forthcoming. He talked about the importance of having adequate testing available and said this will be part of any plan for getting back to work, as he believes there is community spread in every part of Ohio. He said testing will be the responsibility of private businesses as well as government.
---
April 10, 2020
THERE WILL NOT BE A PRESS CONFERENCE TOMORROW (SATURDAY) OR SUNDAY, UNLESS SOMETHING SIGNIFICANT NEEDS REPORTED
At the end of today's press conference, Gov. DeWine said there will be no press conference tomorrow (Saturday, 4/11) or Sunday (4/12), unless there is new or imperative information to report.
DISTILLERIES RECOGNIZED FOR MAKING HAND SANITIZER | DELIVERED TO OHIO'S FOOD BANKS
Ohio distilleries have been making hand sanitizers and many are donating to local food banks. Jobs Ohio has purchased more than 31 cases to donate and shipments will be delivered this week.
NEW PERMIT FOR FOOD TRUCKS TO SERVE AT OHIO REST AREAS
New permit: Ohio food trucks are allowed to serve food to truck drivers and other essential personnel at Ohio's 86 rest stops. The permit can be found at transportation.ohio.gov.
OHIO TRAVELER SPENDING IS DOWN 81% - A $492 MILLION LOSS THUS FAR
US Travel reports 81% less travel spending in Ohio as of 4/4. This is a $492 million loss. As a result, state tax returns from travel businesses to-date are down $15 million, local tax returns are down $9 million and federal tax returns are down $31 million.
---
April 9, 2020
POST-PANDEMIC PLAN IN THE WORKS; GOVERNOR WILL SHARE THIS WITHIN THE NEXT WEEK OR SO
Governor DeWine and his team are working extensively on a post-COVID-19 plan and will share it during one of the press conferences in the next week or so. He reiterated that things won't go back to normal like a light switch, but the plan they are working on will provide some guidance on how we will move forward as a state after all of this.
WEBINAR RECORDING FROM CONVERSATION WITH TOURISMOHIO AVAILABLE ONLINE
If you missed yesterday's webinar with TourismOhio's Matt MacLaren, you can find it here.
---
April 8, 2020
LT. GOV. HUSTED: "WHEN WILL THINGS GET BACK TO 'NORMAL?' POTENTIALLY IN FOUR TO EIGHT WEEKS."
When will things get back to normal, and what will it be based on? It's a complicated answer. The good news is that Ohio's in a much better place today than originally thought, thanks to the governor's orders and social distancing. The bad news is that Ohio is still deep in the midst of a health crisis. We are still in a battle that has to be won. Some things to look at for the future:
Crowds and crowded areas will be bad for awhile. Work places will need to think about this in the future when things begin to reopen. This might mean staggered seating, checking temperatures, making appointments ahead of time before meetings, etc. Vunerable populations will still have to take care to protect themselves.
Hygiene will need to be stepped up; hand washing and hand sanitizers are a given, but masks and gloves will become more common once things begin to open up again.
Lt. Gov. Husted: "Hopefully, in the next four to eight weeks, we will be able to open the economy and begin recovery, considering the advice from our health leaders."
VISIT OHIO.ORG/SUPPORTLOCALOHIO TO SEE & SUPPORT LOCAL BUSINESSES
Gov. DeWine reiterated launch of new video and print ads to promote Ohio restaurants and businesses, encourage people to shop local online and order carryout.
GOV. DEWINE HAS ASKED BWC TO SEND UP TO $1.6 BILLION IN DIVIDENDS TO OHIO EMPLOYERS
Gov. DeWine has asked BWC (Bureau of Worker's Compensation) to send up to $1.6 billion in dividends to Ohio employers to ease the impact that COVID-19 has had on the business community. This closely equals the amount paid in 2018 by each employer. This is largely available due to decreased claims and good investment returns. Checks will be sent later this month.
---
April 7, 2020
2 DRINKS NOW ALLOWED FOR CARRYOUT
The governor is now permitting carryout orders to include packaged alcoholic drinks.
Retailers with on-premise sales to deliver or sell cocktails for off-premise consumption with the following guidelines:
A drink contains not more than 2 ounces of spirits—that can be two ounces in a mixed beverage, or a 2-ounce pour without a mixer.
Each drink must be in its own container.
Each drink must be sold with a meal, and no more than 2 drinks per meal—a meal is not defined.
Open container is prohibited—when transporting drinks they must be sealed.
UPDATED TRAVELER SENTIMENT STUDY RELEASED
Longwoods International and Miles Partnership released a new survey of traveler sentiment fielded April 1. While 22% of people planning a trip in the next six months are shifting from air travel to a drive destination, as time goes by, more indicate they are canceling (53%). Of those planning a trip, 13% are choosing domestic travel over international. Concern over the coronavirus is the factor leading to these changed plans (67% said greatly impacting their plans) versus economic concerns (25% said greatly impacting their plans).
OFFICE OF SMALL BUSINESS RELIEF ESTABLISHED
During today's press conference it was announced that an Office of Small Business Relief has been created in Development Services Agency to help business owners navigate relief programs and understand regulations.
---
April 6, 2020
START THINKING AHEAD FOR "OPENING" DAY
Begin to create a plan and put it in place for when businesses are ready to open up again. You must create a safe, healthy workplace once we come out of this. We don't want to start the spread of the virus again. It's time to start thinking about that day and what you'll need to be ready when the opening day comes.
ANOTHER OPPORTUNITY FOR SMALL BUSINESSES
Goldman Sachs is making $20 million available for small businesses, under the Banking Update provision here. Lt. Gov. Husted assures more information will be available 4/6, so bookmark their page and check back.
---
April 5, 2020
BroadbandOhio, the state's office dedicated to improving access to high-speed internet, has been working with providers to find public hotspot locations that Ohioans can use in areas where they may not otherwise have access to internet from home. Providers not currently listed that are offering public wi-fi hotspots are encouraged to email together@governor.ohio.gov with contact information, and a representative from BroadbandOhio will follow-up. Check out Wi-Fi hotspot locations in Ohio here.
---
April 3, 2020
10 THINGS YOU NEED TO KNOW OR DO
If you haven't done so already, please tell us your story. We are going to need these stories to push for additional economic relief measures. Tell us about what's happening at your business.DMOs, share this link with your partners. It's the local business story about closures and jobs that will make a huge difference in future decisions.
The Ohio stay-at-home order is extended till May 1 and includes new requirements for retail businesses and requires 2-week self-isolation for those entering Ohio. Please read the 4/2 Amended Order.
If you have online sales or are offering new and helpful digital content, make sure you have an updated listing with the state tourism office. TourismOhio has launched a campaign to help businesses promote online sales. Support Local Ohio features a website with links to restaurants offering carryout and delivery, online retailers and virtual experiences. To participate, businesses must create a listing. Companies with existing Ohio. Find it Here. listings can log back into their account and update them anytime. TourismOhio is also looking for new content for its Let's Get Digital experiences. This is a great platform for sharing digital storytelling, games, lesson plans and other creative projects. To submit content for consideration, contact Dayna.Brownfield@Development.Ohio.gov.
If you are a museum, park, heritage or cultural attraction, or a DMO that relies on cultural, heritage or natural markets, complete an Ohio Humanities survey that will be used to fast-track new relief funding.
If you are a 501 ( c ) 6 organization, review this summary of available funding.
If you are concerned about paying your business rent, recognize that the governor issued an Executive Order requesting 90-day suspension of rent payments with deferment to the end of your lease agreement.
Register for the Ohio Travel Association's free webinars. This month we are hosting conversations with TourismOhio's Matt MacLaren, US Travel Association and Longwoods International.
Watch for Google ad credits. Businesses who have advertised directly with Google or through partners since 2019 will receive notification of ad credits available. This includes ad purchases across all forms - Search, YouTube and Display. Ad credits expire Dec. 31, 2020. No action is needed on your part.
Find out which CARES Act relief programs your business is eligible for receiving through our redesigned Help for Businesses. We also are providing some valuable resources from US Travel that can help answer some of your questions. More work needs to be done to provide relief, and there is another phases of federal funding under development. We are also adding state, foundation and corporate giving programs to this list as they are identified.
In response to your questions, we are constantly adding to our Q&A section. The following questions are the latest to be answered:
How should we respond to media?
As a business or organization this is completely or partially at a standstill, what should we be saying now on social media, through email or elsewhere?
What are some ways to preserve business cash flow?
If my business is still open, do I have to do anything special?
How do I manage remote employees?
What are tips for staying productive while working from home?
How do I promote online sales?
We are developing all kinds of new online content, from virtual visits to storytimes, streaming concerts and theatre to DIY crafts. How can we leverage what we've done with TourismOhio?
---
April 2, 2020
NEW STATE ORDER EXTENDS STAY-AT-HOME TILL MAY 1 AND ADDS REQUIREMENTS
Governor DeWine extended the stay-at-Home order until May 1. The new Executive Order goes into effect Monday.
Additions to the order from the original order include:
A dispute resolution panel will make sure policies on essential business are consistent throughout the state.
Retail businesses must identify a maximum number of people permitted in their stores based on being able to keep proper physical distancing. That maximum number must be posted at the storefront, and when a store has gone beyond that number, the store must prohibit individuals from entering.
Any lines that form waiting to enter stores must be marked so that a minimum of six feet is maintained between people.
Anyone traveling to Ohio must quarantine for 14 days. This includes Ohio residents who are returning to the state.
Any weddings or funerals must also abide by the regulations of no more than 10 people gathered.
Campgrounds are closed except for a few exceptions.
People may fish, keeping the same rules of safe physical distancing.
Although state parks are open, the governor gave authority to ODNR director to close parks if safe physical distancing isn't being maintained.
OHIO HUMANITIES SURVEY SHAPING NEW GRANTS PROGRAM
Ohio Humanities wants your survey feedback that will be used to assist cultural organizations impacted by the coronavirus pandemic. Ohio Travel Association, Heritage Ohio, the Ohio History Connection's History Fund, the Ohio Local History Alliance, the Ohio Museums Association, and the Society of Ohio Archivists are all partnering on this effort. Responses will be used to craft an emergency plan to distribute National Endowment for the Humanities federal stimulus funds to help Ohio's cultural heritage community.
Museums, historic sites, heritage-based and nature-based attractions, arts and culture organizations and attractions, and DMOs should all take this survey. Deadline is April 10. Thank you!
---
April 1, 2020
EXECUTIVE ORDER FOR SMALL BUSINESSES SIGNED TODAY
Through this order, Gov. DeWine is issuing a plea to lenders and landlords to work with their small businesses to suspend payments for at least 90 days.
Lt. Gov. Husted: There's two parts to this; We want to avoid foreclosures for the next 90 days and to recognize that there is official authority cited in the order. They are requesting some remedies to defer the 90 days and adding those payments that would normally occur to the end of the loan. It allows businesses to have the cash flow they need to keep people employed.
OHIO MANUFACTURING ALLIANCE INITIATED TO HELP FIGHT COVID-19
This is a public/private combined initiative to help first responders get the materials they need to help care for patients infected with COVID-19. Several organizations throughout the state have all come together to support this. Gov. DeWine to manufacturers: if you have the capability to create the PPE that the state of Ohio needs, go to repurposingproject.com to see the needed supplies and for more information.
INVESTING IN TOURISM PROMOTION WILL BE KEY TO OVERALL ECONOMIC RECOVERY
Researchers from academia and private companies all agree (and now the United Nation's World Tourism Organization has said the very same thing), our overall economic recovery can be accelerated by investing in tourism promotion. One of the best ways out when this is over will be by telling our stories and opening our doors. Fortunately, that's exactly what the Ohio travel industry does best.
OTA is taking a two-pronged approach:
1. Make sure our businesses have what they need to keep employees on the payroll and businesses solvent
2. Make sure decision makers at all levels are considering how our businesses are key to a brighter future.
---
March 31, 2020
EXTENDING STAY AT HOME ORDER LIKELY
Although Governor DeWine did not specifically make an announcement, all indications show that a new order extending the Stay at Home order beyond April 6 is likely to happen in the next few days.
OTA UPDATED EMERGENCY ECONOMIC RELIEF PACKAGES FOR OHIO BUSINESSES
Find out which CARES Act relief programs your business is eligible for receiving through our redesigned Help for Businesses. We also are providing some valuable resources from US Travel that can help answer some of your questions. More work needs to be done to provide relief, and there is another phases of federal funding under development. We are also adding state, foundation and corporate giving programs to this list as they are identified.
JOBSOHIO SUPPORTING APPALACHIA GROWTH
JobsOhio is providing a $2 million growth fund to Appalachian Growth Capital (AGC). This announcement is part of JobsOhio's new strategic initiative to provide more economic development funds to areas of hardest hit by the economy. AGC provides small business financing in the 32-Appalachian counties of eastern and southern Ohio.
NEW ANSWERS TO YOUR QUESTIONS POSTED
Our Q&A section is buzzing! As you submit questions, we send them to a team of industry leaders who are providing input on our response. Today, we posted the following updates:
How should we respond to media?
As a business or organization this is completely or partially at a standstill, what should we be saying now on social media, through email or elsewhere?
What are some ways to preserve business cash flow?
If my business is still open, do I have to do anything special?
How do I manage remote employees?
What are tips for staying productive while working from home?
How do I promote online sales?
We are developing all kinds of new online content, from virtual visits to storytimes, streaming concerts and theatre to DIY crafts.How can we leverage what we've done with TourismOhio?
---
March 30, 2020
STATE ENCOURAGING FINANCIAL INSTITUTIONS TO BE LENIENT
Lt. Governor Jon Husted said today that the state is encouraging all financial institutions to work with their customers. This is important because if your business is renting space and your landlord and/or owner is not willing to work with you to defer payments, it may be because their mortgage holders are not giving them a break. Husted inferred that help may soon be on the way. So if you have tried to get loan deferments and been refused, you may want to reach out again soon based on whether or not new programs are implemented.
GOVERNOR SAYS ANOTHER ORDER COULD BE ON ITS WAY ADDRESSING PARK USE AND PHYSICAL DISTANCING
In regards to a question at the press conference concerning people not practicing physical distancing at parks, Gov. DeWine says he is continuing to review the "stay-at-home" order, and that a new (or updated) one may be coming in the next several days. People are encouraged to go on walks, but must practice the 6-feet rule.
---
March 29, 2020
Businesses who have advertised directly with Google or through partners since 2019 will receive notification of ad credits available. This includes ad purchases across all forms - Search, YouTube and Display. Ad credits expire Dec. 31, 2020. No action is needed on your part. You will be notified by Google.
---
March 28, 2020
HEALTH DEPARTMENTS ARE INSPECTING BUSINESSES FOR COMPLIANCE
Governor DeWine said some local public health departments are visiting businesses that are still operating and are shutting them down if they don't do two things: 1. Proving that they are essential as covered in the governor's order and 2. Complying with the COVID-19 business operations steps. In addition to checking this link, you must read the Stay at Home Order (particularly #18) if you have employees showing up at the office.
In yesterday's email, we emphasized the importance of both of these with businesses in the travel industry. It is imperative that you pay attention to these two steps if you are still going to the office or operating. Please go to the link above to learn what you have to do to operate in compliance. Below, we are sharing the information once again regarding the letter you must write to prove your work is essential:
If you are an Essential Business, Document Your Rationale. The governor has stated that businesses identifying themselves as essential should develop a letter demonstrating how you are an essential business as defined in the Stay At Home Order and how you are complying with the safety mandates as described in the order. This applies to hotels, ferryboats, restaurants doing delivery and pickup, etc.
CEDAR POINT CREATES CURRICULUM TO HELP HOME EDUCATORS
With Ohio's schoolchildren learning from home, there is an opportunity to help provide educational tools. Cedar Point has a portfolio of learning materials. If you are interested in doing something similar, reach out to your local school district. Perhaps there is an educator or retired educator willing to help you create materials with Ohio's learning standards in mind.
---
March 27, 2020
NEW PROGRAM OFFERING VIRTUAL EXPERIENCES AND PROMOTION OF ONLINE SALES
OTA has already reached out to a few of you to help TourismOhio kick off a new program that promotes online sales.This program is being housed on the TourismOhio website at Support Local Ohio. TourismOhio notified us that to contribute to this list, update your listing or sign up for a listing if you are new to this site.
PEAK LIKELY NOT TO OCCUR TILL MID-MAY
Earlier modeling indicated a peak late-April to early-May. Governor DeWine announced today that the peak may occur mid-May.
NEW ECONOMIC IMPACT STUDY SHOWS COVID-19 IMPACT 7X THAT OF 9/11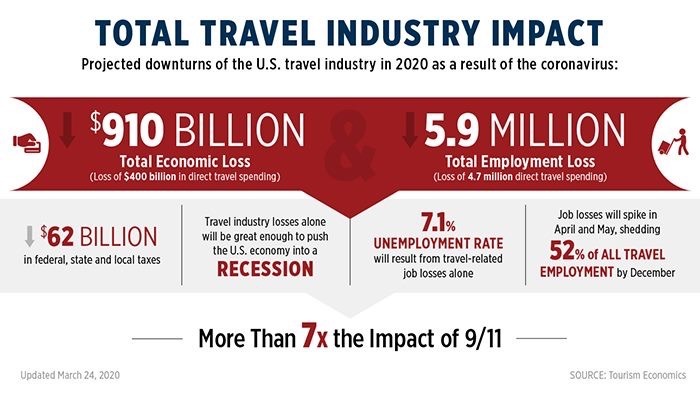 NEW SBA PROGRAM CONVERTS LOANS TO GRANTS FOR RETAINING STAFF
Sen. Rob Portman talked about a new SBA program that begins as early as next week, converting SBA loans to a grant not needing repayment if you need the monies for keeping employees on the payroll, mortgage payments and other operational expenses. If you are interested, call your financial institution.
7 THINGS BUSINESSES NEED TO DO NOW
OTA has identified the most important things all businesses should do now.
What You Can Do Now:
Visit our COVID Resource page. Yes, there's a lot of stuff out there right now. But we have been filtering and developing information just for those who rely on Ohio travel.
Tell us your story. We are going to need these stories to push for additional economic relief measures. Tell us about what's happening at your business. DMOs, share this link with your partners. It's the local business story about closures and jobs that will make a huge difference in future decisions.
Look ahead. Yes, we are all dealing with immediate fires right now, but we also need to keep one eye focused on the future, even if this future is uncertain. Have you forecasted cash flow out for a few months, not just April? Are you thinking about how your customers may look and act differently when restrictions are open? Look for more help on these questions from OTA in the next week.
Prepare for when restrictions are lifted. This isn't going to be an overnight "back-to-normal" situation. The governor has already said that ALL businesses will be ordered to comply with certain procedures as restrictions are slowly lifted. Now is the time you need to think about how these can be done so no time is wasted when you reopen.
If you are an Essential Business, Document Your Rationale. The governor has stated that businesses identifying themselves as essential should develop a letter demonstrating how you are an essential business as defined in the Stay At Home Order and how you are complying with the safety mandates as described in the order. This applies to hotels, ferryboats, restaurants doing delivery and pickup, etc.
Apply for SBA Loan or Check with your Local Lenders. If cash flow is a concern, consider applying for an SBA Loan. You may also check with your local lenders, as many are offering extended lines of credit and other options that may be a better choice for your business or organization. More help is coming, and we will be communicating those on our COVID-19 page as soon as we get more information.
Keep your brand alive. You want to continue talking, but how you talk should change along with the times. Even before this happened, you should have been strategizing to speak to your customers with their needs in mind and to solve their problems – building relationships, providing memories, etc. Today is no different, except your customers' needs have changed. Now is not the time to put your needs over your customers. And, as we are all going through this together, you have a pretty good idea of what customers need right now - hope, connectivity, peace of mind, etc. Let them know you miss them and will be there for them when this is over. This is a great time to identify and refine your emotional connection with your guests.
---
March 26, 2020
FEDERAL CARES ACT TO PROVIDE MORE AID
We have received a copy of the 888-page CARES Act and are in the process of reviewing opportunities for Ohio businesses and our hospitality workers. More information will be posted tomorrow.
---
March 25, 2020
OHIO GENERAL ASSEMBLY PASSES CORONAVIRUS PACKAGE BILL
The Ohio House approved Senate amendments to a coronavirus package bill and sent the bill to the governor. While many of items in the bill involved codifying some of the actions ordered by the governor last week, there were a few to take note of as they may concern your business and the travel industry:
Prohibits public water disconnections during the pandemic
Permits school districts, STEM schools and community schools to use distance learning to make up for any missed days or hours of instruction caused by the ordered closure of Ohio schools. This means schools will not be extended into the summer to make up time.
Extended state tax filing deadline from April 15 to July 15
IF YOU ARE IDENTIFYING YOUR BUSINESS AS ESSENTIAL, HAVE A LETTER READY
It is recommended that if businesses are identifying themselves as essential, they should develop a letter demonstrating how you are an essential business as defined in the Stay At Home Order and how you are complying with the safety mandates as described in the order and below.
---
March 24, 2020
STATE LOOKING FOR CONFORMITY TO FEDERAL TAX MEASURES WHEN PASSED
Lt. Jon Husted said the state is proposing a package to the Ohio General Assembly to conform any changes to the state's tax structure to what is proposed at the federal level.
WHETHER NOW OR LATER, ALL BUSINESSES WILL BE REQUIRED TO MEET THE BASIC OPERATION GUIDELINES
If you are open for business, you must comply with the following. If you are not open right now, please understand that we are going to have to conform to these regulations when we reopen, as social distancing will be required even when business restrictions are lifted. Don't wait until then to think about how you are going to do these things.
Designate six-foot distances. Designating with signage, tape, or by other means six-foot spacing for employees and customers in line to maintain appropriate distance;
Hand sanitizers and sanitizing products. Having hand sanitizer and sanitizing
products readily available for employees and customers;
Separate operating hours for vulnerable populations. Implementing separate
operating hours for elderly and vulnerable customers; and
Online and remote access. Posting online whether a facility is open and how best to
reach the facility and continue services by phone or remotely.
The Ohio Travel Association is clarifying these regulations with the Governor's office now, and we will let you as soon as know anything official.
SHARING YOUR STORIES WITH US IS VITAL
Please share what is happening at your business through the link provided above. As OTA continues to fight for relief measures today and in the days to come, we need these stories.
DMOs, we really need you to forward this link to your partners. We will forward you stories from your region as we get them.
BE CREATIVE WITH LOCAL RELIEF MEASURES
Today, we had the opportunity to work with an Ohio county that brought together commissioners, the county DMO, key travel businesses, economic development officials and others. While state and federal relief measures will be welcomed when released, there are many small businesses out there who are in immediate need of assistance to make payroll or rent. The model we are currently exploring is transforming a county's Revolving Loan Fund into a disaster relief gap funding loan program through bonds. In addition to providing much-needed funding for small businesses, this program could also generate revenue for local governments.
If your local community is supporting small businesses through creative funding, please let Melinda Huntley know at mhuntley@ohiotravel.org.
---
March 23, 2020
STATE ENACTING BUDGET MEASURES
Governor Mike DeWine announced a hiring freeze within state government for all positions not fighting the coronavirus. In addition, there is a freeze on contract services. Cabinet members will also be asked to cut expenses 20%. The governor said whether or not there is a capital budget this year is up to the General Assembly.
TRAVEL IS A ROAD TO RECOVERY
Although the Ohio Travel Association understands the need to tighten the belt in order to provide more health care and human services, we will be communicating the need to make sure our state is prepared to rebound when timing is right. That means making sure TourismOhio, ODNR and others who are key to economic recovery will be prepared to help our economy recover.
Oxford Economics forecasts a $355 billion loss because of decreased travel, along with a loss of $55 billion in tax revenues and 4.6 million jobs. According to Oxford Economics, "The greatest opportunity to mitigate these losses is to reduce the time required for a recovery. While typical recovery times from a disease-related crisis range from 12-16 months, this can be shortened through strategic promotions and support of the travel industry."
Consisting of those businesses that were hardest hit by COVID-19, the Ohio travel industry will soon be in a position to help the economy recover. Smart and strategic decisions need to be made, and we are looking forward to working with the administration when the time is appropriate.
---
March 22, 2020
GOVERNOR DEWINE SIGNS "STAY-AT-HOME" ORDER
A "stay-at-home" order was signed today. Others states refer to this as a shelter-in-place. A copy of the order can be found here, as well as an FAQ:
The order permits exceptions for the following:
for health and safety
for necessary supplies and services
for outdoor activities, such as walking or visiting a park (playground visitation is prohibited)
to report for essential work as discussed below
to take care of others
The second part of the order lists the essential businesses that are permitted to stay open. As we mentioned yesterday, this document was released yesterday and is likely to have been used in developing this list. CISA Guidance On Essential Critical Infrastructure Workers
Carryout from restaurants will still be permitted.
Each of the businesses permitted to stay open must follow guidelines for protecting their employees and others, and the order specifies what those required actions must be.
Orders can be enforced by local health departments and law enforcement.
The order begins 11:59 p.m. Monday, March 23 until April 6.
OHIO GENERAL ASSEMBLY REPORTS NEXT WEEK
Governor DeWine says he will ask legislators next week to eliminate the testing requirement for schools this school year. Earlier this week, he said he expects teaching to continue and was hopeful school days would not have to be added at the end of the year.
---
March 21, 2020
BUREAU OF WORKER'S COMPENSATION PREMIUM PAYMENTS DELAYED
Ohio BWC will forego premium payments for businesses in March, April and May. More information will be available soon on https://info.bwc.ohio.gov/
GOVERNOR'S ADVISORY OF ESSENTIAL WORKERS
Further guidance was distributed regarding business operations and identifying essential employees. Please see the link to the document which follows this general list for additional guidance.
Everyone should follow guidance from the CDC, as well as State and local government officials, regarding strategies to limit disease spread.
Workers should be encouraged to work remotely when possible and focus on core business activities. In-person, non-mandatory activities should be delayed until the resumption of normal operations.
When continuous remote work is not possible, businesses should enlist strategies to reduce the likelihood of spreading the disease. This includes, but is not necessarily limited to, separating staff by off-setting shift hours or days and/or social distancing. These steps can preserve the workforce and allow operations to continue.
All organizations should implement their business continuity and pandemic plans, or put plans in place if they do not exist. Delaying implementation is not advised and puts at risk the viability of the business and the health and safety of the employees.
In the modern economy, reliance on technology and just-in-time supply chains means that certain workers must be able to access certain sites, facilities, and assets to ensure continuity of functions.
Government employees, such as emergency managers, and the business community need to establish and maintain lines of communication.
When government and businesses engage in discussions about critical infrastructure workers, they need to consider the implications of business operations beyond the jurisdiction where the asset or facility is located.
Businesses can have sizeable economic and societal impacts as well as supply chain dependencies that are geographically distributed.
Whenever possible, jurisdictions should align access and movement control policies related to critical infrastructure workers to lower the burden of workers crossing jurisdictional boundaries
Cisa Guidance On Essential Critical Infrastructure Workers
---
March 20, 2020
OHIO TRAVEL INDUSTRY MADE ITSELF HEARD
To all of the businesses and organizations who took the time to respond to our call of action last night and this morning by signing a support letter regarding economic relief measures for our industry, thank you! We had an outstanding response. Nationwide, there were more than 6,000 signatures and Ohio made itself known. The letter was sent to the U.S. Senate today at noon.
Please recognize that this will not be the last time we reach out to you for your stories and your support as new measures are proposed and we move into more long-term economic stimulus discussions. Our friends at US Travel have identified federal Recovery Measures that will be pursued. Please contact Melinda Huntley at mhuntley@ohiotravel.org if you have other thoughts or comments. Thank you.
HEALTH INSURANCE COMPANIES REQUIRED TO PROVIDE PREMIUM RELIEF
The Department of Insurance issued an order for employers to take better care of their employees by approving a grace period for health insurance premiums. Health insurance providers must provide options for deferring premium payments up to 60 days, interest free.
NEW CLOSURES AND RESTRICTIONS ANNOUNCED TODAY
Effective close of business day on Monday, Ohio's senior citizen centers and senior day care centers will close. The governor pleaded with Ohio businesses to do what is right and take the needed steps to protect their employees. He stopped just short of issuing more stringent mandates, but said he will not hesitate to do something if businesses continue to act recklessly.
---
March 19, 2020
IMPORTANT UPDATE: Small businesses can now apply for disaster loans online here.
---
GREAT GUIDANCE ON BROADENING OF UNEMPLOYMENT PROGRAM AND CHANGES TO BUREAU OF WORKER'S COMPENSATION LAWS WITH MORE REMOTE WORKERS
Here's an excellent COVID Unemployment fact sheet regarding changes to the unemployment program.
Are you concerned about BWC coverage for your employees who may be sent to work from
home on a temporary basis? Each claim is unique and will have its own set of facts to guide us. Below
are some BWC Guidance to keep in mind in the event that you have a teleworker who files a claim
application. The scenarios described below are not all encompassing but should give you some
direction as you investigate these instances:
Typically work from home employees are NOT covered if:
Worker trips over their dog and breaks their wrist while going to the
bathroom
Worker decides to load some dishes in the dishwasher and cuts themselves
Worker goes outside their home to go for a walk and falls off their porch
Worker makes or gets lunch and gets food poisoning from it
Worker goes to McDonalds for lunch and gets in a car accident
Worker drives into the office to get work items needed for job but deviates from route to stop at the bank for personal reasons and gets into an accident
Typically work from home employees MAY be covered if:
Worker is at home workstation and reaches for a binder and hurts shoulder
Worker is at home workstation and chair breaks and they fall and hurt their back
Worker has poor ergo arrangement for their work station and develops wrist tendonitis
Worker drives into the office to get work items needed for job and gets into an accident
March 18, 2020
GUIDELINES FOR BUSINESSES
Governor Mike DeWine sent the following directives to all businesses who still have employees reporting to work:
Business who are still open should take the temperatures of every employee.
If employees are ill, send them home immediately
Be vigilant in your cleaning processes
Abide by the regulations below - no gatherings of 10 or more and ensure people can maintain the 6-foot social distancing rule
NO GATHERINGS OF 10 OR MORE
Per the president's order, mass gatherings of more than 10 are now prohibited in Ohio. How does this number impact your business? If you have a business that remains open with spaces where 10 or more people are gathered, or where the 6-foot rule between customers can't be achieved, then you either have to make changes or close.
SBA DISASTER LOANS APPLICATION COULD BE AVAILABLE AS EARLY AS FRIDAY
The disaster loan program will offer loans of up to $2 million for businesses in affected industries to pay for working capital needs, such as payroll, accounts payable and fixed-payment debts such as bank loans. Terms are up to 30 years. You need to show you've suffered a downturn in sales and a downturn in cash flow for a certain period. You may also project these losses out for the time you expect sales to decline. Keep checking this site for availability.
ECONOMIC IMPACT PROJECTIONS
As of March 16, Tourism Economics predicts a 31% decline in the travel industry for 2020. This includes a 75% drop in revenue over the next two months and continued losses the rest of the year reaching $355 billion. This is six times the impact of 9/11 on travel sector revenue. A loss of 4.6 million jobs is anticipated, as well as a decline of $55 billion in tax revenues. The greatest losses are anticipated in food service, lodging and air transportation; however, all sectors (including recreation and retail) should anticipate losses in excess of $33 billion. Should travel restrictions loosen in the next two months, they anticipate travel revenues will slowly improve, but we are likely to experience losses the rest of the year. Please recognize these are national figures at this point, and that different markets and different types of travel experiences may witness faster recovery. Strategic promotion will be a key factor in reducing the losses after the next two months. Access the full report here.
HERE'S WHAT IS BEING ASKED OF CONGRESS
Yesterday, US Travel Association sent a letter to members of Congress requesting the following measures of relief for travel businesses.
Grants to protect the travel workforce: Provide direct grants to keep workers in their jobs and provide compensation for economic losses incurred in the interest of public health.
Loans to stabilize business operations: Provide travel-dependent businesses and nonprofits with zero interest, unsecured lines of credit from the U.S. Treasury Department. Maximize SBA loan programs by increasing loan limits and guarantee percentages, waiving loan fees, and providing forbearance on interest and loan payments through 2020.
Provide tax relief to mitigate economic losses and spur recovery: Permit affected businesses to temporarily defer tax liability, delay or eliminate estimated quarterly tax payments and filing deadlines and allow for a carryback of the Net Operating Loss (NOL) deduction.
Reverse declines in travel demand—keep America moving and working: Install a temporary travel tax credit to encourage travel spending, restore the entertainment business expense deduction, boost community development block grants to promote healthy travel and provide a temporary payroll tax cut.
March 17, 2020
Will Schools be Extended into Summer to Make Up Time?
During Governor Mike DeWine's press conference on March 17, a question was asked regarding whether schools will be extended into the summer. The governor responded that learning is still occurring – teachers are being paid and online practices are in place. Teachers and schools have been instructed to keep learning happening during this 3-week shutdown. He said whether or not schools will be extended later in the year will be discussed later if needed.
Some Things to Think About from Colleagues Elsewhere
We had the opportunity to attend a call with Destinations International where some advice from folks who have been on the front line in Toronto (during SARS) and San Francisco was shared. Here are a few things you might want to consider, regardless of what sector you represent.
We need to remember that travel is about people and not just hotel rooms. Don't talk only about hotel rooms; talk about the visitor. It's that visitor that dines in a restaurant, supports that server, and purchases retail items. Now, more than perhaps ever before, our visitors' economic footprints will be visible.
As you speak with vendors, partners and others, be hyperaware of the hardships they might be going through and recognize that they are in all likelihood going through uncertainty and struggles as well.
Do everything you can right now to save your resources. At the end of the day, you must be able to survive.
---
March 16, 2020
UPDATE: Ohio Department of Health Director Dr. Amy Acton signed a three-page order the evening of Monday, March 16 that closes all polling locations in Ohio due to the risk of COVID-19. Read more here.
As of close of business today, fitness centers and gyms, bowling alleys, public recreation centers, movie theatres, indoor water parks and indoor trampoline parks are ordered to close.
CDC guidelines are now limiting mass gatherings to less than 50, which the governor said Ohio will change its original order banning gatherings of more than 100 to banning gatherings of more than 50.
The governor also made a recommendation to extend in-person voting to June 2. Absentee voting will be proposed to extend. As the governor does not have the authority to close an election, he said a lawsuit will be submitted today to pursue these changes.
Ohio Development Services Agency is working this week to qualify the state for U.S. Small Business Administration's (SBA) Economic Injury Disaster Loan Program. To complete the information that the agency needs to submit to the SBA, they are asking you to take a few moments to complete an online survey. Please remember that survey responses are public record and must be made available to the public and media upon request. Please note, however, that any information you provide in the "Economic Damage" section is considered confidential business information and will not be subject to a public record request.
---
March 15, 2020
At today's 3:30 p.m. press conference, Governor Mike DeWine announced that he is signing an order closing bars and restaurants beginning at 9 p.m. Carryout and delivery is still permitted and encouraged.
Unemployment Benefits to Cover More Ohioans
Lieutenant Governor Jon Husted discussed an executive order changing Ohio's unemployment law to enable workers who do not have paid leave benefits to access unemployment benefits during this period of emergency. They are also broadening the definition to include those quarantined to be considered unemployed, and Ohioans do not have to actively seek work during the emergency period. The order also provides some coverage for businesses who have to limit service or shut down. Payments will be expedited and the one-week delay is being waived before receiving unemployment payments.
Liquor Buy-Back Program
For those restaurants and bars who have purchased liquor, bar and restaurant owners, they can return unopened high-proof liquor to the agency where it was purchased. Details of the buy-back of liquor purchased in the last 30 days can be found by calling 877-812-0013.
Help for small businesses and nonprofits
The state is working this week to qualify Ohio businesses and nonprofits for the US Small Business Economic Injury Disaster Program. Low-interest loans will be available. Nonprofits will also be available to seek low-interest loans to cover fixed debts, payroll and other expenses businesses will be eligible. Loans are maximized over 30 years. For more information, visit sba.gov/disaster or call 1-800-659-2955.
---
March 14, 2020
Governor Mike DeWine and the Ohio Department of Health announced today at 2:17 p.m. that there are currently 26 Ohioans infected with COVID-19, double that of yesterday. Seven of these cases are hospitalized. The governor said that the number of confirmed is expected to rise as more hospitals are testing and the rate of infection. He reminded Ohioans not to be alarmed.
Many people may not even know they are infected, yet they have the ability to spread the virus. Ohio Department of Health's Dr. Amy Acton reminded us to think of six degrees of separation and to comply with the 6-foot social spacing rule.
In response to a question if Ohio's aggressive measures will help if surrounding states don't follow suit, Dr. Acton said each state is responsible for setting their own restrictions and that many other states will inch closer to our standards. She said the system is "perfectly imperfect." Ohio's measures will help contain the virus in-state and are setting an example for others.
Dr. Acton said "the virus is among us," but that we are not flying blindly. She reminded all that the drastic measures that have been taken are essential as timing is everything in order to reduce the number of new cases to not overwhelm health care capacity.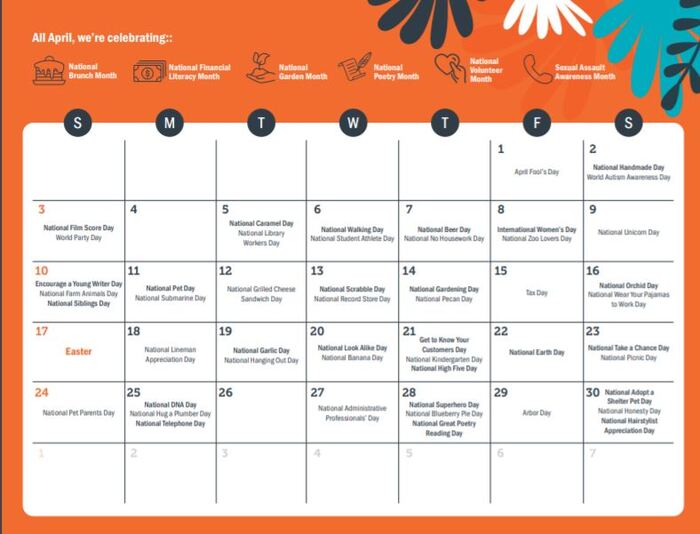 No new mandates were announced, however, the governor clarified that casinos and racinos are closed. Several of the racinos are continuing to run horses.
Other recommendations for individuals included postponing elective dentistry and health care.
"We are in it for the long run," he said. He emphasized the need to be kind and to take care of one another.
The Lieutenant Governor Jon Husted talked about ways we can help others, including the following ideas:
Reach out to an elderly neighbor to see how you can help, particularly if you are younger and in a low-risk group
Consider donating blood
Support your local foodbank
Talk to your friends and neighbors to see if they need help
If you have been hording supplies, consider sharing and have a "generous spirit"
As we talked about below after yesterday's press conference, Husted said they are reaching out to businesses to understand what measures are needed. The Ohio Travel Association is part of these discussions as we draft measures to help businesses and your employees.
If you seek COVID-19 information, there is a call center at 1-833-427-5634. The website is coronavirus.ohio.org.
---
March 13, 2020
During a press conference at 2 p.m., Governor Mike DeWine said there are currently 13 confirmed COVID-19 cases in the State of Ohio. As hospitals do more testing, more positive cases will be identified. The governor emphasized that an uptick of additional cases is not unexpected and that we will see more and more cases. At this time, patients originate from Belmont, Butler, Cuyahoga, Stark, Summit, and Trumbull counties.
The governor clarified that casinos are covered in yesterday's order banning mass gatherings. He issued new orders limiting visitation for county jails and correctional facilities. He said day care centers are not being asked to close now, but that could be a future order. He said for employees to being thinking of alternative care now.
He reminded Ohioans to "explore the outdoors," reminding all to keep six feet from other people to minimize exposure.
As you consider your messaging in the next month, keep this mind.
"We are going to do everything we can to build support and build systems for what is going to be a very tough time in the next few weeks and maybe into the next few months," he said.
Lieutenant Governor Jon Husted reiterated the need to build support systems to help businesses and institutions who are helping the state get through this difficult time. They sent a letter to President Trump today requesting regulation relief, such as waivers on recertification of some health care workers. He said additional requests will be made.
As an industry that is also helping the state get through this time through closing our doors or reducing programming, our industry MUST be part of this discussion. Today, the Ohio Travel Association joined 30-plus other industry associations to draft both 30-day relief measures for your businesses, as well as to begin discussions on economic incentives to be implemented within the next six months. At the request of the Lieutenant Governor, these will be submitted next week, so as soon as we get copies of these draft recommendations, we will send out these recommendations for your input. It will be absolutely imperative that we get a response from you quickly, as this is moving like lightening in order to ensure success.
At the same time, we have been in contact with US Travel which is working on federal relief measures. While these are essential, state measures should also be considered and aligned, which is why we are working on state policies simultaneously.
---
March 12, 2020
On March 12, Governor Mike DeWine issued an Executive Order banning gatherings of 100 or more persons in an attempt to slow down the coronavirus. With five confirmed cases in Ohio, he identified that this virus doubles in number every six days and that the need to limit gatherings is to slow down the spread.
He also closed public schools beginning close of school Monday until at least April 3 and tightened visitation protocols for nursing homes and psychiatric hospitals.
As we all are painfully aware, what is known and recommended for dealing with the coronavirus pandemic is constantly changing. The uncertainty itself is a challenge; however, it is somewhat comforting to know that we are in this together and doing the best we can with the information as it is released.
The health and safety of our employees and visitors should always be of primary concern. We are in an unprecedented position, however, as we are also major partners in preventing the spread of this pandemic. "The key is not only to protect ourselves, but to protect strangers," said DeWine.
The next month or so could be tough for us all, but we want to remind you that help is available. If you should have any questions or ideas, please reach out to us.
Governor Bans Gatherings of 100 or More
Today, Governor Mike DeWine signed an Executive Order prohibiting gatherings of 100 or more. This order extends to auditoriums, stadiums, arenas, large conference rooms, theaters, parades, festivals, meeting halls, cafeterias and other confined indoor or outdoor spaces. It does not include offices, restaurants, factories, retail or grocery stores where large groups of people are present, but it is unusual for them to be within an arm's length of one another. It does not also include those places where people are in transit, such as airports and bus stations. It also excludes religious gatherings, weddings and funerals.
Understand that this is hot off the presses and there appears to be some grey area. Read the official Executive Order here.
Keep People at Least Six Feet Apart
What do you do if your business or organization is not impacted by the order? Think about creating more space between people. DeWine said six feet is the distance where spreading is less likely to occur based on research.
Consider Flexible Work Schedules
Governor DeWine has also reached out to his cabinet directors to allow state employees who are able based on their job responsibilities to work from home.
What We're Doing
The Ohio Travel Association is working with our partners at the Ohio Hotel and Lodging Association, Ohio Restaurant Association and the Ohio Association of Convention and Visitors Bureaus to ensure our state and national leaders understand that our travel businesses are working tirelessly to ensure the safety of our workers and visitors.
Today, the four associations sent a letter to Governor Mike DeWine expressing concern for a reasonable and balanced policy concerning his upcoming Executive Order for mass gatherings. We also emphasized the importance of ensuring that Ohio's businesses dependent on travel are considered when developing economic relief packages. Our businesses – event centers, attractions, hotels, restaurants, and many more – will suffer revenue and job losses, and we are working toward creating some possible relief measures.
---
March 6, 2020
U.S. Chamber of Commerce CEO Thomas Donahue says, "Be prudent, be prepared, and don't overreact." Let us know what's on your mind by taking a quick survey, and access some resources to help deal with the coronavirus and the messaging surrounding the virus.
We are working with our statewide partners on generating statements and ensuring policymakers understand the $46 billion in travel-related economic impact at risk. These dollars boost communities and Ohio businesses of all sizes and in all industries.
The travel industry's guiding principle is to seek and heed the most up-to-date expert guidance, and we urge the traveling public to do the same.
---