05/21/2021
Third-Party Cookies Are Going Away For Good in 2022. What Does This Mean to the Travel Marketer?
Sojern Shares The Latest Information and Solutions to This Major Digital Marketing Change

Cookies, pixels, and hashed emails, oh my! Sojern's Mitchell Sanford, Vijay Bhagani and Dave Goulden explained the impact of third-party cookies going away next year, what this means for our marketing campaigns, and what solutions we should consider during this week's Travel Marketing webinar on May 20.
Mitchell, Vijay and Dave shared several key changes on the horizon as a result of third-party cookies going away. Here are some key details to keep on your radar:
Understanding the role of pixels and cookies in digital marketing is important.

A pixel is a block of code placed on an advertiser's website in order to track a user's actions as they browser.
Think of a cookie as a folder. It contains all the information about a user's actions on your website and stores it in the user's browser. This allows you (in this case, the advertiser), to identify and target your customer with relevant ads, as well as control the number of times they see the ad. "Cookies have really defined our web identity without storing any of our personal information," said Mitchell. They are key for advertisers to track user behavior across web pages.

Keep in mind the difference between 1st party and 3rd party cookies: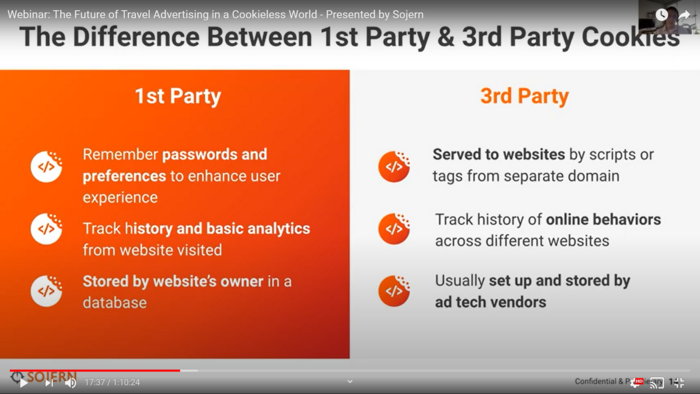 Why are 3rd party cookies going away?

Well, this is where the cookie crumbles. We have 3rd party cookies to thank for website visitors, ad serving and retargeting, tracking and data collection. However, due to privacy requests, control and choice that consumers have demanded, Google and other browsers have decided it's time to throw 3rd party cookies away.

What implications does it have for you, as a travel advertiser?

Without a plan in place, you will no longer have the ability to serve up ads to those who have engaged digitally with your product.
OTA will explore the latest traveler sentiment research with Amir Eylon of Longwoods International in our next Travel Marketing Webinar on June 10 at 11 a.m. EST. Using highlights and key takeaways from both the ongoing Longwoods American Travel Sentiment survey and Longwoods Travel USA survey, Amir will showcase how the traveler has evolved as a result of the pandemic.
If you want insights as to how folks will be traveling during recovery, what their expectations are, and how to effectively market to them over your competition in an environment that is about to be flooded with travel marketing, then you won't want to miss this session. Seats are limited, so don't forget to register here.
---
Thank you to our sponsors for making this webinar series possible.