2019 Focus on Tourism Workshops
---
Need a social media boost? Interested in becoming a marketing guru? Want to make the best of your resources and skills? Our Focus on Tourism workshops are perfect for you! With information on marketing, communications, customer experience management, search engine optimization, promoting and creating video and photo content, and so much more, our workshops will put you at the top of the travel industry. Scroll down for more information on specific topics.

Based on the industry digital survey, as well as feedback from last year's sessions, the Ohio Travel Association continues to offer affordable one-day workshops to boost your skills and to keep your marketing fresh and relevant.

Each session includes networking time, as well as industry updates and behind-the-scenes offerings at some of our state's fascinating experiences. Registration includes the option to select multiple workshops. Do not forget to invite others in your organization or community.
These workshops are crafted specifically for travel and tourism professionals whose responsibilities include any of the following - marketing, communications, leadership, management, sales or technology. Topics presented will help guide business goals and measurements all the way down to day-to-day responsibilities.
---
Rates:
OTA Members: $65
Non-Members: $85
*All workshops are held from 9:30 am to 2:30 pm with lunch included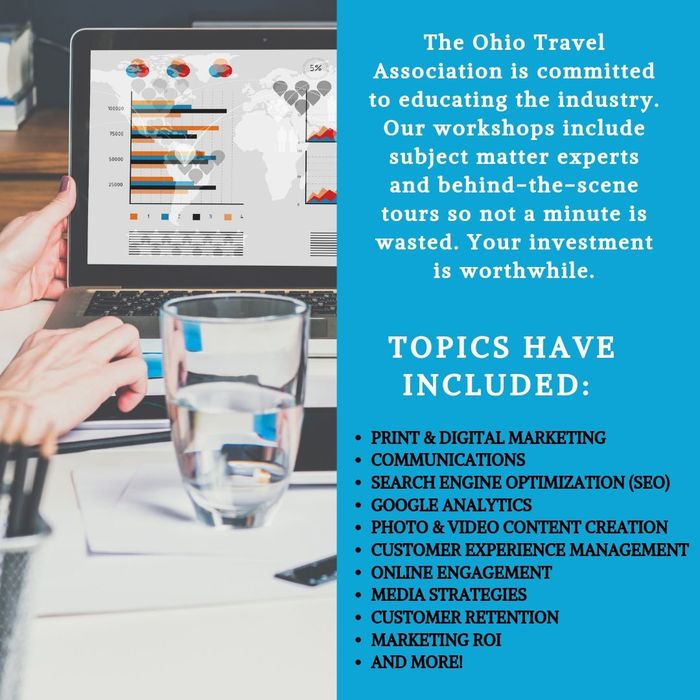 ---
Here's what some of our attendees had to say:
"The workshop and one-on-one with Peter were excellent. I got validation on things we are doing right, solid recommendations on digital spend and strategy, and good advice on things we need to improve on our website." - Drew Tanner, Marketing Director at Peoples Bank Theatre
"My staff and I were so glad we took time out of our busy schedules to attend this Focus on Tourism workshop. It was well worth the time out of the office and we were able to implement some of the recommendations the next day to improve our online marketing strategies." - Beth Carmichael, Executive Director at Trumbull County Tourism Bureau
---
---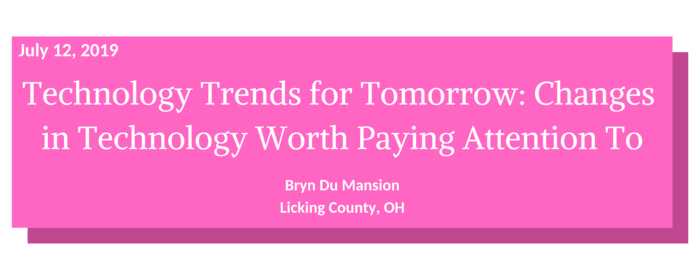 Keep up on the changing dynamics of data and privacy expectations, the huge "frenemy" that is Amazon and how physical environments are becoming more digital. This workshop will also cover the wave of incoming chat bots, design trends and consumer behavior changes smart marketers are watching and adapting to.


Jason Therrien, thunder::tech
As the president of thunder::tech, Jason oversees the growth and expansion of the integrated marketing agency. He works with the account services team to provide strategic planning and counsel for clients. Jason's specialties include integrated marketing planning and strategy, digital marketing strategy, public relations and communications strategy. He founded thunder::tech's destination category concentration after exposure to marketing attractions and a number of museums and then CVBs. Jason is involved in many community initiatives in the tourism space including two trips to Europe to study and exchange ideas with other CVBs and also works on the Ohio World Heritage PR Committee which is lobbying for UNESCO World Heritage designations for Ohio's ancient earthworks.




Special Event: Bryn Du Mansion Tour
Local businessman Henry D. Wright originally constructed a mansion on this site as an Italianate Villa type structure in 1865. It was constructed of sandstone quarried from the property. Jonas McCune became the owner within a year after construction and the property became known as McCune's Villa. Jones soon hired architect Frank Packard of Columbus who orchestrated the mansion renovation and construction of the outbuildings in the first decade of the 20th Century. This renovation took nearly five years and transformed the mansion into its Georgian-Federal style design that we see today!
Enjoy a tour of this beautiful mansion nestled in the charming village of Granville. Hand crafted wood paneling detail the West and East wings and the formal dining room. It is also handicap accessible with spacious front and rear patios.
---
---
Thank You Education Sponsors and Partners!

---