Complete Story

03/18/2016
Legislative Advocacy 101: Engaging Lawmakers on Social Media
New Research Demonstrates Power of Social Media Engagement
Did you know that social media is now a relevant tool to keep in touch with your elected officials? Lawmakers are using social media to learn about issues and to keep in contact with constituents. Yes, that means you. Here are a few steps to contacting your legislators, getting your voice heard and keeping your representatives informed with the issues you find important.
New research released by the Congressional Management Foundation offers us a look at how congressional staff and lawmakers use social media. Although this research is focused on DC, we think the research gives us a perspective of social media potential at all levels of government.
We have interpreted the findings that are most important to our members.
Lawmakers are on Social Media. Find Them.
Approximately 84 percent of congressional lawmakers have become more inclined to use social media.
Around 75 percent of lawmakers feel that social media has enabled them to more closely interact with their constituents.
What this means is that it is getting easier and easier to interact with elected officials.
Keep it Professional
Contacting legislators through social media is perfectly acceptable, but be sure to speak to legislators with the same amount of respect and etiquette that would be expected from an email or in-person conversation. We have all seen less than professional posts, and we can guarantee those will be filtered out and ignored. Respect and attention to detail will get lawmakers to listen.
Continue to Build Relationships
If you've met with an elected official, here are some tips for getting your issue and your legislator additional visibility.
Post a photograph of you and your elected official. Be sure to get permission for taking the photograph and posting it.
Tag and/or share the photo on your elected officials' social media sites.
In the post, mention something memorable discussed at the meeting. Remember, social media is conversational, so keep it interesting.
Thank him or her for meeting with you.
Get Your Voice Heard.
One of the best things you can do is to identify yourself as a constituent in the post. Show that you are from their state, district or county. Most elected officials will pay more attention when they are contacted by known constituents.
If you are a part of a group, get multiple people to submit similar posts, or even the leader of your group. Seventy-eight percent of elected officials will pay attention if multiple members of the same group create posts, and 75 percent will listen when it is the leader of the group.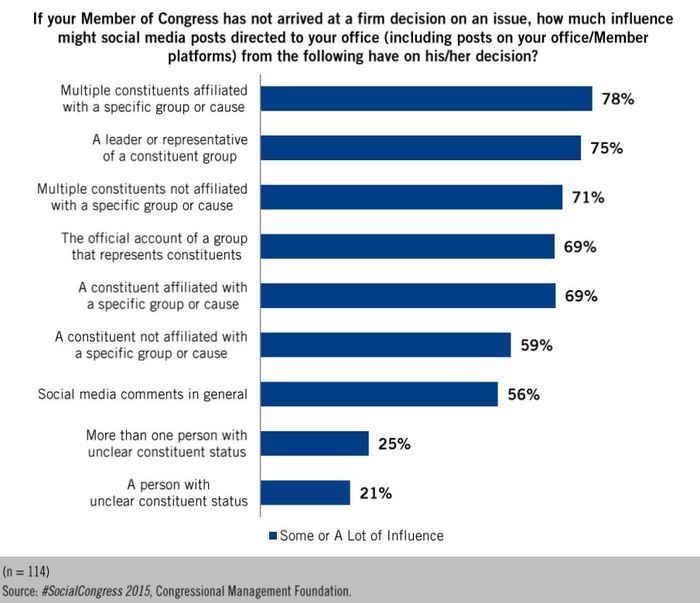 In essence, identifying yourself on social media and developing similar messages across repeated posts enable legislators to focus on your issue.
Be Responsive.
You are most likely to get noticed if you post within the first six hours of an announcement, event or reaction. Around 54 percent of elected officials will pay attention for up to six hours; 23 percent will pay attention for up to a week, but after that attention will drop greatly. So react fast.
Be Brief.
Keep it short so followers will be able to add comments when they ReTweet you.
Be Consistent.
Don't change your profile photo too often. Think of it as your brand. If you switch it too often, you'll be harder to find.
Be a Follower.
Make sure you follow your legislator, leaders from both parties, and the advocacy organization that represents your issue, such as the Ohio Travel Association and US Travel Association.
In the past, you may have felt government officials are difficult to reach and hard to contact. You would have to submit a letter or go through other channels. All of this has changed, however, with the advent of social media. From Facebook to Twitter, most of us now have a direct connection with a large majority of lawmakers and officials, who may be paying a lot more attention to their social media than you would think.
In short, be quick. Be numerous. Let them know that you are definitively a constituent and remember that elected officials are paying attention to what you have to say on social media.
For more from our Legislative Advocacy 101 series, visit the following:
Writing Letters to Elected Officials
---