Complete Story

09/01/2017
More than Three Dozen Ohio Business Leaders Take Part in Congressional Travel Talks
Value of the Travel Economy and Policies for Improving Infrastructure, International Travel and Employment Lead the Topics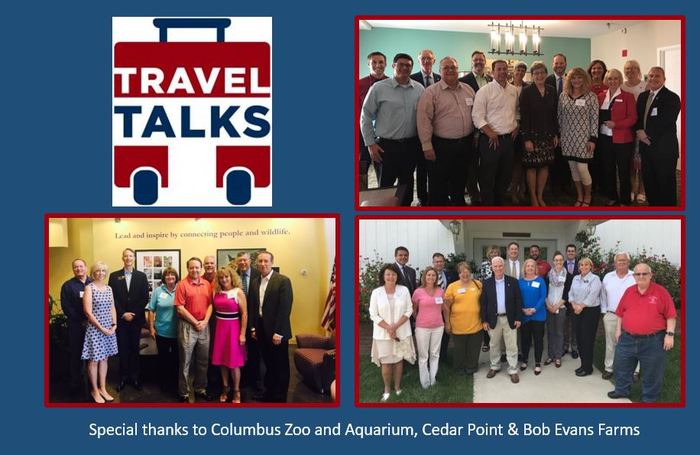 The Ohio Travel Association staff was on the road during the month of August to make sure you had the opportunity to talk to some of your federal lawmakers. Through a partnership with U.S. Travel Association, Travel Talks were held with U.S. Representatives Marcy Kaptur, Pat Tiberi and Bill Johnson. More than three dozen industry leaders took part in the conversations, which was so important as they represent constituents and could give district perspectives of decisions in DC.
Participating businesses included the following:
Athens County CVB
Belmont County Tourism Council
Cedar Fair
Cedar Point
City of Sandusky
Columbus Zoo and Aquarium/Zoombezi Bay
COSI
Delaware County CVB
Destination Toledo CVB
Dublin CVB
Enterprise Rent-A-Car
Explore Licking County
Gahanna CVB
Gallia County CVB
Greater Cleveland Aquarium
Holzer Health Systems/GCCVB Advisory Board
Hotel & Leisure Advisors
Jet Express
Kalahari Resort Sandusky
Lake Erie Shores & Islands
Longwoods International, USA
Ohio History Connection
Ohio Restaurant Association
Ohio Travel Association
Portsmouth-Scioto County Visitors Bureau
Remington Road Group
Welsh Scenic Byway
Key messages shared included the following:
Support pro-travel legislation because the travel economy is a $43 billion engine for Ohio, creating good American jobs in every corner of the country, state and districts.
Support policies that support and evolve the Visa Waiver program that strengthens security while also making travel to the U.S. less of a hassle for guests from qualifying countries.
Recognize the importance of travel promotion in keeping the economy moving, including the efforts of Brand USA which markets the U.S. as the premier global destination.
Support airport modernization and other travel infrastructure, as an aging airline infrastructure, declining airline competition and outdated air traffic control system have put America at a disadvantage.
Support the J-1 Summer Work Travel program that provides more than 3,000 workers for Ohio businesses, allowing them to stay open longer in the year, keep longer hours and provide better customer service. These workers do not replace American jobs, but without them, Americans will lose jobs as businesses downsize offerings due to lack of employees.
Join the House Travel and Tourism Caucus to keep informed and strategic about introducing policies that boost the U.S. travel economy.
Special thanks to Cedar Point, Bob Evans Farms and the Columbus Zoo and Aquarium for hosting these important events. The Ohio Travel Association will continue to host Travel Talk sessions throughout the state during congressional breaks.
---