Complete Story

10/15/2018
Ohio Caverns: Natural Wonder Tour or the Historic Tour

Receive a discount at Ohio Caverns. Concealed beneath rolling farmland and wooded countryside lies Ohio Caverns, one of Ohio's top tourist attractions. These once-hidden caves were formed thousands of years ago when an underground river cut through ancient limestone and created vast rooms and passageways that later filled with countless crystal stalactites, stalagmites and other amazing formations. Come discover the rich, wondrous, and startling natural beauty unlike anything else you have ever seen!
OTA members receive $2 off the adult and $1 off the child admission rate for the Natural Wonder Tour or the Historic Tour OR $4 off of the adult and $2 off of the child admission rates for the Combo Tour.
Print and present your OTA discount card below.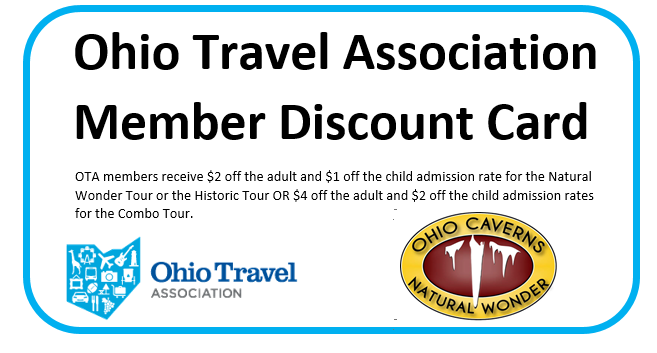 ---