Complete Story

07/12/2019
Marketing & Advertising Transformation
OTLA Project Highlights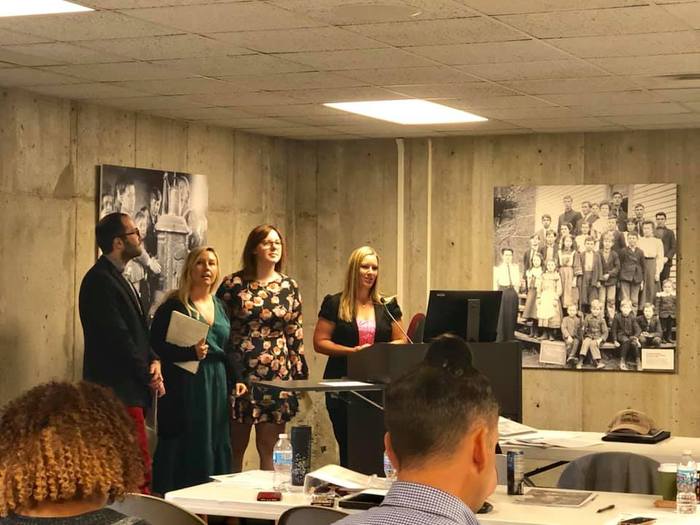 From left to right: Jacob Masters, Dennison Railroad Depot Museum; Meg Berno, Dublin Ohio CVB; Sam Fangman, Butler County VB; Adria Bergeron, Muskingum Watershed Conservancy District
The Ohio Tourism Leadership Academy presented final projects at the Ohio History Connection in Columbus last month. This popular leadership program is offered by the Ohio Travel Association (OTA) annually. Class members this year separated into groups and researched specific trends likely to impact the travel industry and the way we do business. Groups addressed topics such as generational ethics, social media, economic conditions, and more. Today, we are highlighting Adria Bergeron, Jacob Masters, Meg Berno, and Sam Fangman and their project on 'Marketing & Advertising Transformation.'
Thesis
Adria, Jacob, Meg, and Sam address the huge growth of data and technology over the years. With growth comes greater risk of data and security breaches. One of the greatest issues for marketers in the travel industry is to somehow get past this "static" and get our messages out there.
How could this impact our businesses and the way we conduct business?
The growing number of competitors forces us to target potential travelers at a concentrated level. This isn't necessarily a bad thing; with more targeted ads, the better chance annual visits and visitor spending will increase tremendously. With the help of social media platforms, we are able to produce and send content more rapidly, and target to specific demographics.
Insights
Adria, Jacob, Meg, and Sam remind us that as marketers, our duty is to remain ethical and be mindful of the privacy of our consumers. Their personal information is not for mass distribution.
How could this impact how or why we travel?
Print isn't the primary means of advertising anymore. Most people have a smartphone or device at their fingertips, so it's quick and relatively easy to push the message through literally with the click of a button. Even the millenial and Gen-Zs are constantly looking for things to do via their smartphones. We need to be on top of this medium to track what our consumers are liking and clicking on so we know exactly how to market to them. Through Facebook Pixel and other social media advertising means, it is easier and quicker to reach our audiences and resonate with them.
How can the industry best take advantage of this driver as an opportunity?
Now that we are able to see exactly what our customers like, we can produce the best possible advertising in order to get them to convert to a visit, sale, or booking. This could be the different between a potential traveler and a frequent traveler.
What must the industry do to mitigate damage that may be caused by this driver?
List segmentation is absolutely key. Every bit of content we send shouldn't be sent to every person on our lists. In order to attract a certain customer, we must send them what they're looking for.
Content creation shouldn't be frigid. We are able to access our customer's personal likes and information to target specifically - therefore, we should make our language and content more personal, rather than cold and distant.
As marketers, it is of upmost importance to stay honest, carefully manage our customer's personal materials, and have backup recovery systems in place to protect this information.
What Can Be Done to Help?
Data and technology is ever-changing. It may seem impossible to keep up, but the best practice we can implement in our marketing strategies is to remain relevant. Read articles, attend workshops, network with other peers in the industry, and do your own research to stay on top of these imperative trends.
Changes in Technology to Watch Out For:
- Augmented Reality and Virtual Reality
- Blockchain
- Virtual Assistants in Hotel Rooms
- Big Data
How Can OTA Help?
When we talked about a previous OTLA project on Social Media and Next-Gen Evolution, we deemed technology as holding the keys to progression in the industry. The same applies here. As data and technology changes, so should we. OTA can help by monitoring new trends and educating members through Focus on Tourism Workshops and education sessions at the Ohio Conference on Travel.
---
The OTA Board of Directors assigned the Ohio Tourism Leadership Academy groups these group research topics with the goal of being able to learn and build upon some of these findings in shaping OTA's future work. Special thanks to all OTLA class members, speakers and experts who have assisted in shaping these discussions.
---
To learn more about the Ohio Tourism Leadership Academy, click the button below!
---