Complete Story

07/26/2019
Virtualized Meetings and How They Could Transform the Travel Industry
Ohio Tourism Leadership Academy Project Highlights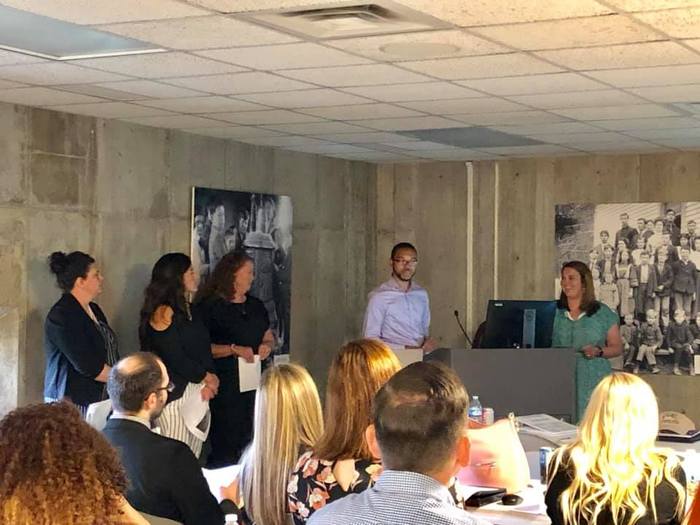 Destiny Bryson, Highland County CVB; Stephanie Dunham, Fayette County Travel & Tourism Bureau; Amanda Smith Rasnick, Lake Erie Shores & Islands; Kevin Young, Cincinnati USA CVB, Sarah Gleason, Clermont County CVB
The Ohio Tourism Leadership Academy presented final projects at the Ohio History Connection in Columbus before graduation at this year's fall conference. This popular leadership program is offered by the Ohio Travel Association (OTA) annually. Class members this year separated into groups and researched specific trends likely to impact the travel industry and the way we do business. Today, we are highlighting Sarah Gleason, Kevin Young, Amanda Smith Rasnick, Destiny Bryson, and Stephanie Dunham and their project on Virtualized Meetings.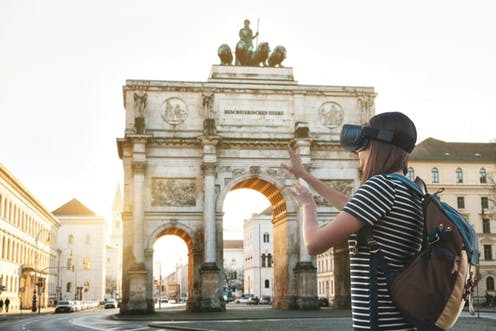 Thesis
Amanda, Kevin, Sarah, Destiny, and Stephanie analyzed the up and coming popularity and accessibility of virtualized meetings. Technologies such as virtual reality (VR) and augmented reality (AR) are creating options for telepresence meetings. For the first time in several years, live event attendances is expected to grow more than virtual attendance. However, it has become apparent that while live events are not disappearing, there is a growing need for various meeting formats including the live meetings, AR/VR, or a hybrid to accommodate all generations, learning styles, and budgets.
Trends
As the world turns more digital, the demand for more forms of connectivity and reachability grows. VR is relatively mainstream, while AR is now being implemented on various platforms for use. Therefore marketers are beginning to explore VR/AR as ways to deliver instant content for their consumers. With this "new" form of communication comes new techniques that include open review, post-publication review, and continues revision. Other trends include security concerns since it is getting simpler to access private information, online friendships turning into real world friendships (and vice versa), attention to sustainability and creating less of a carbon footprint, generational preferences on how information is being consumed, and the power of social media and how it's able to reach the masses in seconds.
Insights
Amanda, Kevin, Sarah, Destiny, and Stephanie identified the following insights:
Positive impacts of virtualized meetings include:
Access to new business connections that may not have been there before
Geographic flexibility, allowing employees to work from anywhere
Eco-friendly
Access to continuing education at more affordable rates and with flexibility
Options for multiple employees to attend events, while saving costs
Increases the value of "real-world" meetings
Some negatives may include:
Less face-to-face meetings/interactions
High cost broadband and equipment
Ever-changing technologies to keep up with, which could become expensive
Destinations/attractions/lodging options must be equipped with high-speed/broadband capabilities
Demand will continue even more-so for more tech-based marketing
Impact on travel patterns includes:
Potential decrease in travel to destinations that host live events
Potential increase in travel if individuals experience destinations in AR/VR and want to experience the destination more in-person
Potential increase in leisure travel, due to the fact that people might be traveling less for business since they primarily meet with people via AR/VR
Other potential impacts to pay attention to include how AR/VR will impact learning. Travel may not be required if AR/VR technology fulfills education requirements. However, on the bright side of things, virtualized meetings opens doors for easier training and development for all employees. The continued cost of maintaining AR/VR may be challenging, but organizations could save money by not sending personnel to face-to-face sessions.
How Can the Industry Take Action?
As an industry, we'll need to find ways to include all members and potential event attendees. We need to offer many different meeting platforms, including live and virtual, to give people options. Collaborating with other industry partners and organizations to help reduce virtual meeting costs will help make it more accessible.
Tools Needed
Basic research will need to be conducted to find the impact a business or organization could have if virtualized meetings were added to their marketing/meeting planning efforts.
How Can OTA Help?
OTA could conduct surveys related to virtualized meetings to see who would use these platforms, how they would use them, and if it is a hot-button investment in their business model. OTA could also consider offering certain events or classes virtually while continuing to offer them live, giving people the option to choose what is most convenient/affordable.
The OTA Board of Directors assigned the Ohio Tourism Leadership Academy groups these group research topics with the goal of being able to learn and build upon some of these findings in shaping OTA's future work. Special thanks to all OTLA class members, speakers and experts who have assisted in shaping these discussions.
To learn more about the Ohio Tourism Leadership Academy, click the button below!
---