Complete Story

08/30/2019
Travel Works for Ohio
U.S. Travel Association Hosts Discussions
We love to talk about the power and opportunities of the travel economy, so when the U.S. Travel Association asked us to be a part of their inaugural Travel Works roadshow, we jumped at the chance to spread the word about why travel is important to our members' communities, the state and the nation.
We have worked with U.S. Travel for several years hosting regional Travel Talks with federal legislators and the Ohio business community, as well as meeting with presidential and Ohio federal legislative candidates. But this event was special. This time, U.S. Travel staff traveled to Ohio to help us share the story, and what a story was told.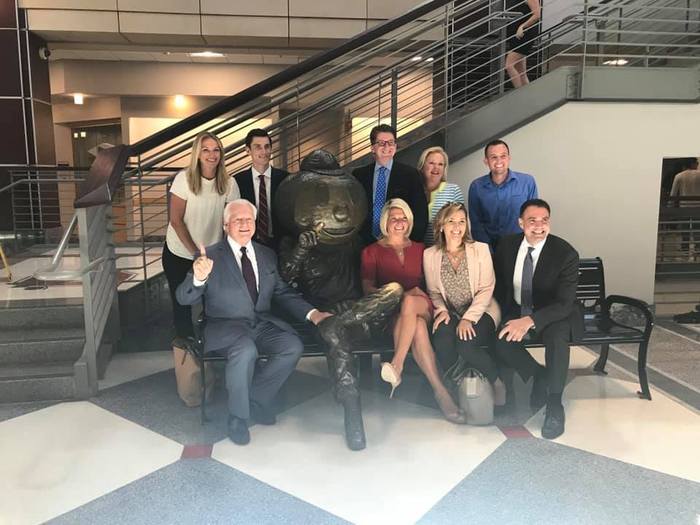 U.S. Travel Association Staff
The potency of partnerships was a key message. This played out as speakers from various vantage points - Columbus officials, federal legislators, state agencies, the Ohio Travel Association, US Travel and business leaders -- talked in unison about how travel is good for the economy. The message was supported also in how collaboration between the travel economy and multiple partners has been the key ingredient to growth in Columbus.
The day featured a morning forum with remarks by U.S. Travel Association President and CEO Roger Dow, U.S. Rep. Steve Stivers, U.S. Rep. Joyce Beatty, U.S. Rep. Troy Balderson and Experience Columbus President and CEO Brian Ross. A panel discussion followed and included Ohio Development Services Agency Director Lydia Mihalik, Ohio Travel Association Executive Director Melinda Huntley, Columbus Mayor Andrew Ginther, and Ohio Business Roundtable President and CEO Pat Tiberi.
The value of the travel economy was discussed from many points of view, including its contributions to our quality of life and its funding of essential services through tax revenues. How travel contributes to other economic development efforts was shared, whether that be how travel introduces Ohio as a place to invest when people travel to the state or how travel promotion positively shapes the perception of Ohio as a place to do business, live, go to school and more.
The $46 billion travel economy supports not only those who directly service our guests, but also businesses in nearly every other Ohio industry -- such as manufacturing, construction, agriculture and finance – as our businesses do business.
All of this supports 429,000 Ohio jobs, a majority of which are career professionals in hospitality management, culinary, marketing, finance, human resources, engineering, etc. The potential also exists, however, to leverage our front-line and summer workers to help make Ohioans more employable. These early jobs are where workers gain valuable knowledge and skills to prepare them for careers, regardless of the industry they choose.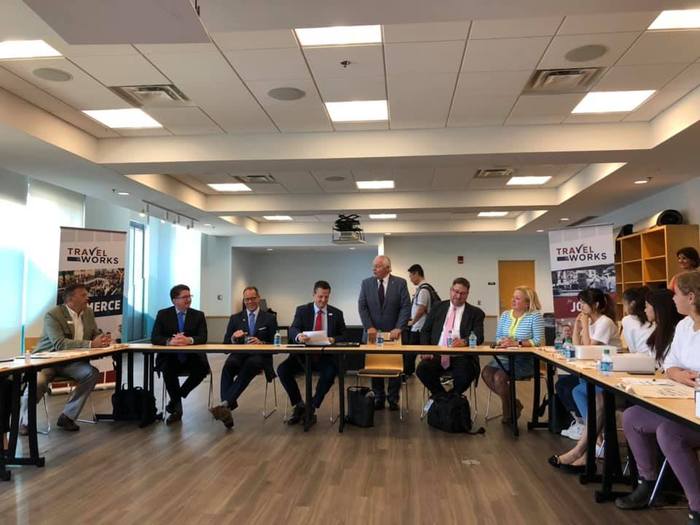 Later in the day, discussions about jobs continued. We participated in a conversation with OSU students about career preparedness and travel job opportunities. Columbus Zoo and Aquarium President and CEO Tom Stalf shared stories about his career progression, while also talking about the business operations of the zoo. He brought along a few friends as well. In addition to Huntley, Stalf and Ross, panel members included TourismOhio Director Matt MacLaren, Longwoods International President and CEO Amir Eylon, U.S. Travel Vice President of Industry Relations Angie Briggs and U.S. Travel Vice President of Communications Greg Staley.
Some of the takeaways from this discussion included pursuing what you love, the importance of building managerial skills and experience, and the value of professional networking. As many of us already know, the career pathway in the travel economy is not always linear, so the students were applauded for having already identified that they are interested in the industry. Now it's time for them to explore options and build their skill sets through experience.
The Ohio Travel Association thanks U.S. Travel Association and Experience Columbus for bringing these important conversations to the state.
---