Complete Story

07/24/2020
Weekly Updates for Ohio's Travel Economy, July 24
Updates on economic relief legislation, new grant opportunity, mandatory mask requirement, how COVID-19 has impacted the Ohio travel economy and more
Economic Relief
DETAILS ABOUT PHASE 4 OF ECONOMIC RELIEF ANTICIPATED IN NEXT FEW DAYS
Details about Phase 4 of a coronavirus relief effort coming out of DC will be announced in the next few days. Senate Republicans will soon release its draft legislation, which will be a jumping-off point for negotiations. We will be reaching out to you throughout the next week or two for you to tell your story to lawmakers.
Ohio has lost $7.8 billion in traveler spending so far and still has more than 180,000 leisure and hospitality workers furloughed or laid off. Only two other Ohio industries have job losses in the double digits - mining/logging at 16% and professional and business services at 11%.
Our businesses are struggling, and we need to make sure those making decisions on future relief packages understand the severity of the situation.
Thank you to the 198 Ohio businesses who quickly responded when we asked for your support of business liability protection for those businesses who are following safety guidelines. We are hopeful this protection is included in the new legislation. Other priorities include extension and expansion of existing relief programs (such as the Payroll Protection Program) and stimulus measures.
Look for more information next week. The bill is anticipated to move quickly, so we will keep you updated.
OHIO HUMANITIES OPENS SECOND ROUND OF GRANTS ON JULY 31
Ohio Humanities is offering additional OH CARES funding to help cultural nonprofit organizations affected by COVID-19 health crisis. According to Pat Williamsen, Ohio Humanities executive director, up to $60,000 is available to assist nonprofit organizations that serve the public by offering programs in history, literature, philosophy or other humanities topics. Grants of up to $5,000 will be awarded through a competitive application process. Grants may be used for digital programming, humanities education staff, and supplies to maintain the safety of employees and patrons. Organizations that received OH CARES grants in the first round of funding are ineligible. Applications for OH CARES II grants will be available beginning on Friday, July 31; the deadline for submission is Friday, Aug. 14. A webinar about this funding initiative will be held on July 29 at 10 a.m. Register for the webinar here. Applications and more information will be released July 31 here.
Economic Impact Updates
TRAVEL ECONOMY MAY NOT FULLY RECOVER TIL 2024
To get an idea of what to expect through 2024, please refer to the chart below. A new report by US Travel and Oxford Economics estimates $505 billion in losses for the travel industry for a total of $81 billion in lost federal, state and local taxes by the end of 2020. The travel industry is not expected to recover until 2024.
Statewide Mask Order and What that Means to Ohio's Travel Businesses
STATEWIDE MASK ORDER WENT INTO EFFECT LAST NIGHT
Citizens in all Ohio counties are now under a mandatory mask order while out in public. The Governor's office reached out to OTA this week and requested a letter of support, which the OTA Board quickly and unanimously granted.
Masks must be worn at all times when:
At an indoor location that's not a residence
Outdoors, when unable to keep 6ft social distance from those not in your household
When waiting for, riding, driving, or operating public transportation -taxi, car service, private rideshare
This order only requires those who are 10 years old or older to wear a mask. In addition, the following do not need to wear a mask:
Those with a medical condition or a disability or those communicating with someone with a disability
Those who are actively exercising or playing sports
Those who are officiants at religious services
Those who are actively involved in public safety
Those who are actively eating or drinking
MASKS ARE GOOD FOR BUSINESS
Three different American traveler studies over the last two weeks are consistent in showing the importance of mask mandates for doing business.
Longwoods International surveyed travelers July 17:
61% of American travelers prefer that destinations require masks
More than half of those travelers (35% of total travelers surveyed) will ONLY visit a destination with mandatory mask policies
9% are less likely to visit if masks are mandated, and only 3% of these will refuse to visit destinations with mandatory mask policies
Destination Analysts released its study of American travelers this week:
67% of American travelers are happy when businesses and destinations mandate masks
23% are neutral
Only 9.5% are unhappy or very unhappy. Among the 9.5% who aren't pleased, only 5% said a mandatory mask policy would prevent them from visiting your business or organization.
Colleen Dillen/Know Your Bone research team surveyed those who visit attractions on June 29. When asked what would make them feel comfortable visiting museums, gardens, nature areas, mandatory face coverings rose from 54% of respondents to more than 70% in the last two weeks. The authors said, "research suggests that not requiring masks will have a greater negative impact on attendance than requiring them for a vast majority of organizations."
WHAT OTA IS DOING TO HELP YOU MANAGE MANDATORY MASKS
First, if you need quick justification on why masks are needed if you want to attract customers, we created a quick Survey Says: Mandatory Masks July 2020 outlining the research above.
We are working with Paul Werth and Associates on a campaign linking mask compliance with keeping our businesses open. A toolkit will be provided to you very soon, with messages supported through social media and other means.
We are also working on some conflict resolution resources to help your employees handle negative customer interactions.
Travel Advisory and County Fairs
TRAVEL ADVISORY ISSUED FOR THOSE TRAVELING TO OHIO / OHIO RESIDENTS TRAVELING TO AND FROM STATE
This week, Governor DeWine also announced a travel advisory for all individuals coming into Ohio from states reporting positive testing rates of 15% or higher for COVID-19 and recommends that those individuals self-quarantine for 14 days. If you are traveling from one of the states highlighted in yellow below, it is recommended to quarantine at home or in a hotel. This also applies to those who live in Ohio and those traveling here from the states, whether they are traveling for business or leisure.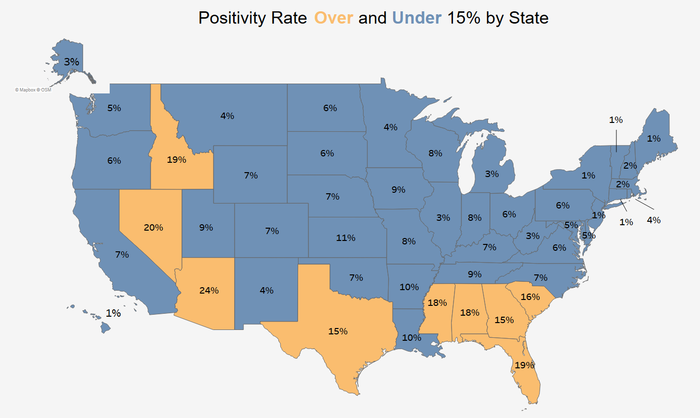 COUNTY FAIRS RISK BEING SHUT DOWN IF NOT COMPLIANT WITH GUIDELINES
Governor DeWine noted that some fairs are not following safety guidelines. They must adhere to social distancing guidelines and the mandatory mask mandate in order to stay open.
---