Complete Story

10/30/2020
Updates: Ohio's Travel Industry and the Coronavirus (COVID-19)
Economic Relief Updates
OHIO TRAVEL ASSOCIATION AND OHIO HOTEL & LODGING ASSOCIATION SHARE THE NEED FOR MORE FOCUSED RELIEF FOR TRAVEL ECONOMY BUSINESSES
While steps to provide businesses with 25 or fewer employees $10,000 grants, the $2,500 assistance for on-premises liquor permit holders, support for some (but not all) arts and culture organizations, and the dividend from Ohio's workers' compensation fund will direct some much-needed financial support across the spectrum, Ohio Travel Association and partners at the Ohio Hotel & Lodging Association have contacted Governor DeWine and other state officials to call attention to the very real and acute impact that the pandemic and the response to it have had on Ohio's travel economy. See our joint letter here.
Businesses in the travel sector continue to be the most impacted, with devastating results, permanent job losses, and lasting damage to our economic infrastructure on the horizon. OHLA and OTA are calling for additional steps for emergency economic relief.
Our suggestions for assistance to museums, hotels, meeting venues, and other travel economy victims of the pandemic include business interruption grants and local matches from federal CARES Act funds, needs-based eligibility to help the most impacted businesses with levels of funding that will help them survive and preserve jobs, and help for entities left out of economic assistance to date, including the many 501(c)(6) entities that perform critical economic development activities though destination marketing and support of travel industries.
In anticipation of additional federal support that could be directed to the states after the election, it is our hope that the state will recognize some critical realities:
The impact is spread among severely-impacted businesses, including hotel & lodging, convention centers, museums, campgrounds, attractions, sightseeing services, airports, performing arts, tour operator companies and many others
67% of hotels won't make it another 6 months given current and projected travel demand without emergency financial assistance
74% of hotels will be forced to lay off more workers and eliminate more jobs. Four out of ten hotel employees are not working
One-third of museum directors confirm there is a "significant risk" of closing permanently by next fall, or they "didn't know" if they would survive
87% of museums have only 12 months or less of financial operating reserves remaining, with 56% having less than six months left to cover operations
Meeting venues, including convention centers and hotels, are unable to book future business given existing restrictions to 300 persons regardless of venue size, creating a bleak outlook and loss of cash flow
SMALL BUSINESS AND BAR/RESTAURANT RELIEF AWARDED ON A FIRST-COME, FIRST-SERVED BASIS BEGINING NOV. 2.
If you are eligible for the two programs below, please apply early. The $125 million Ohio Small Business Relief Program is for for-profit businesses with 25 or fewer FTEs on Jan. 1. Businesses holding applicable liquor licenses are eligible for the $2,500 bar and restaurant assistance funding; this includes hotels and other venues with such licenses. Applications open Nov. 2, and $37.5 million will be awarded on a first-come, first-serve basis. If you are eligible for both, you may apply for both.
Ohio Small Business Relief Program
Ohio Bar and Restaurant Assistance Fund
ARTS AND CULTURE FUND IS AVAILABLE TO THOSE ALREADY RECEIVING OPERATING ASSISTANCE FROM OHIO ARTS COUNCIL - PLEASE APPLY ANYWAY TO SHOW NEED
An additional $20 million of relief is being made available to help arts and cultural institutions. This relief is being administered through the Ohio Arts Council and is restricted to those who already receive government operating support through the Ohio Arts Council. If you are not eligible, please complete the application anyway so we can continue to identify the need. Details and a link are available below, and this initial process does not appear to be a long one, so please complete their worksheet.
Arts and Culture Relief Program
NONPROFIT ASSISTANCE FUND GUIDELINES ARE NOT AVAILABLE
An additional $25 million is being made available for nonprofits in Ohio. There are no details for this program as of this time. It is being administered through Ohio Jobs and Family Services.
GOVERNOR RELEASING BWC DIVIDENDS IN DECEMBER
Gov. Mike DeWine on Wednesday announced he would ask the Bureau of Workers' Compensation Board of Directors to approve a $5 billion dividend – the largest in the state's history. The governor said "in the next few days" the BWC board would hold a virtual meeting to vote on the request. The proposed dividend would be the third of more than $1 billion already issued this year. If approved, Gov. DeWine said checks would be distributed to employers in December. He said the city of Columbus is in line for the single largest dividend payment at about $64 million. (SOURCE: Gongwer)
HELP FOR THOSE BEHIND ON MORTGAGE, UTILITIES AND RENT DUE TO THE PANDEMIC
Ohioans who are behind on rent, mortgage, and water and/or sewer utility bills may be able to
receive assistance through the new Ohio Home Relief Program. Assistance can be applied to outstanding rent, mortgage, water, and/or sewer bills back to April 1, 2020. Ohioans can receive monthly assistance until the program ends on Dec. 30, 2020.
Economic Impact in Ohio
LOSS OF TRAVELER SPENDING HAS LED TO $11 BILLION IMPACT TO OHIO THUS FAR
Tourism Economics tracking of weekly spending shows that Ohio has lost $11 billion thus far since March. Ohio businesses experienced a $246 million loss the week ending Oct. 17 which is a 2% greater loss than experienced the week prior. This is the second week in a row Ohio losses have moved in the wrong direction for the good of Ohio and its businesses.
This loss in traveler spending is having a direct impact on federal, state and local tax revenues as well. A loss of $323 million in state sales tax receipts has occurred thus far due to traveler spending loss, as is $191 million in lost local sales tax receipts. Federal tax revenues are down $690 million due to the loss of Ohio travel.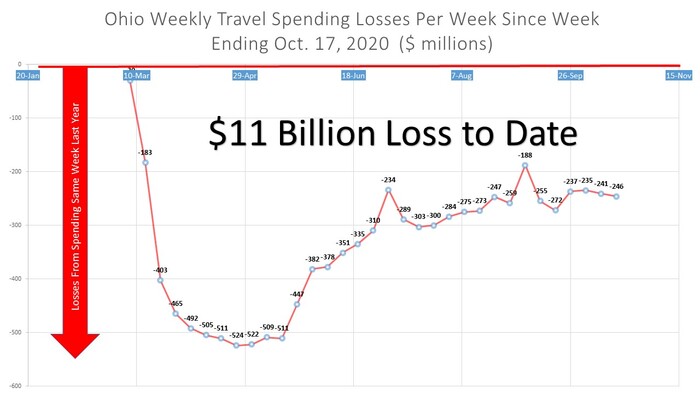 Travel Sentiment and Behavior Updates
INCREASED CASES LINKED TO GROWING CONCERNS, TRAVELER CONFIDENCE IS GROWING ON HOW TO KEEP SAFE, WHAT BUSINESSES DO TO REINFORCE THIS IS ESSENTIAL FOR BOOKING BUSINESS
Key findings from Destination Analysts survey fielded Oct. 23-25, 2020:
There's growing concern about contracting coronavirus and its impact on personal finances and the national economy

Elevated cases contributing to this concern
Increased anxiety about the virus coincides with decreasing excitement levels about taking a getaway in the next month and openness to travel inspiration.
Perceptions of travel activities as unsafe and the percent of Americans who agree they have lost their taste for travel for the time being also ticked up this week.

There are signs that travel sentiment may not be as significantly impacted as it was in previous surges during the pandemic.

35% of American travelers feel they have gained confidence in how to navigate the pandemic in the last three months.
Americans are exhibiting less agreement that they will avoid travel until the coronavirus situation is more resolved and their state of mind about travel readiness remained constant from last week.

Three-quarters still have trips at least tentatively planned.

Nearly 60% of Americans agree that having a vacation scheduled in the next six months would make them feel there is something happy to look forward to.

More than 35% plan to travel by air in the next 6 months.
Well over 80% of American travelers plan to shop at a retail store at some point in the remainder of the year, although currently, relatively few plan to take a leisure trip specifically to shop for the holidays (6.7%).
The health and safety protocols Americans most desire for the in-person retail experience include social distancing guidelines enforced and strict masking requirements, although required masking for patrons and staff is seen as absolutely required by those Americans who still perceive shopping as unsafe.
INCREASED COMFORT STAYING IN HOTELS, UNUSED VACATION DAYS GROWING
Key findings from Engagious fielded Oct. 21, 2020
Comfort level to resume travel growing

Staying in a hotel is improving with the percent of respondents requiring a vaccine or medical breakthrough to stay at a hotel hitting a new low
Readiness to attend conferences and take a cruise also growing

More than half of respondents (55%) have six or more unused vacation days in 2020

Yet, one-third can carry over five or fewer days and another one-third can carry over 10 or fewer days into 2021
GIFTING TRAVEL FOR THE HOLIDAYS TRENDING, TRAVELERS SEEKING RELAXATION WHEN BOOKING TRIPS
Key findings from American Express released Oct. 28, 2020
At least three in five consumers, surveyed across seven countries, plan to stay home for the holiday season this year
Over half of global respondents agree they are very interested in receiving a domestic (58%) or international (54%) trip in 2021
Six in 10 agree their 2021 resolution is to take more vacation time than they did in 2020 and two-thirds indicated that because of the pandemic, they are saving more money for their next trip
Relaxation is a top priority. Sixty-four percent agree that, compared to before the pandemic, they are now more likely to book a vacation where they can relax and lounge vs. be physically active (53%)
GOVERNMENT RESTRICTIONS CITED AS GREATEST BARRIER TO BUSINESS TRAVEL
Key findings from Global Business Travel Association released Oct. 22, 2020
More than four in 10 global travel professionals (43%) cite government travel restrictions and policies, such as quarantine and entry restrictions, as the greatest barrier to travel, followed by company policies (32%)
Face-to-face meetings are 'more' or 'much more' effective than virtual meetings according to 82% of respondents
The current short-term forecast for travel remains unchanged with 90% of Global Business Travel Association member companies still not open to international travel and 68% restricting domestic travel
INCREASE IN CASES AND LACK OF CLARITY IN SAFETY PROTOCOLS PREVENTING BOOKINGS
Key findings from Longwoods International Traveler Sentiment Survey Week of Oct. 26.
As there is a sharp rise in new cases reported across the country, 53% of American travelers say that fear of spreading/contracting COVID-19 is preventing them from taking a trip.

Lack of clarity in health and safety protocols as well as travel restrictions in desired destinations continue to rank high among factors preventing travel.

36% of American travelers say they do not intend to travel until there is a COVID-19 vaccine.
Restrictions on attractions and local dining as well as uncertainty over being welcome in desired destinations are significant, but much less than the other factors preventing travel.
Only 13% of those surveyed have no hesitation about traveling at the moment.
The percent of American travelers who feel safe traveling outside their community may be starting to trend downward as reports of new cases rise
---