Complete Story

05/10/2023
Ohio Reveals "Ohio, The Heart of it All" as the New Brand
Adequate Funding and Consistency are Key to its Success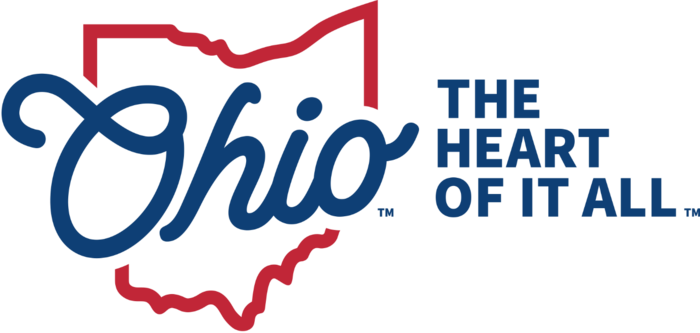 Governor Mike DeWine and Ohio Department of Development Lydia Mihalik announced a new brand for Ohio this week at Ohio Tourism Day. "Ohio, The Heart of it All" replaces "Ohio. Find it Here." as the brand.
For some people, this brand may evoke feelings of nostalgia. "Ohio, The Heart of it All" was the state's brand from the mid-1980s to 2001.
Below are new TourismOhio social media accounts:
Instagram: @OhioTheHeartofitAll
FB: @OhioTheHeartofitAll
Twitter: OHHeartofitAll
#OhioTheHeartofitAll
"A strong brand identifies what sets us apart from our competitors, and it is memorable. A strong Ohio brand can unify key messages and lift economic activity across the state, as it leaves an imprint every time it is seen or heard. This is especially important for Ohio's $53 billion travel economy, as we compete with other states to capture the attention and spending power of visitors. "Ohio, The Heart of It All" has a proven record for checking all the boxes of an effective brand," said Ohio Travel Association Executive Director Melinda Huntley.
Focus and Funding Needed to Drive Economic ROI
To ensure the brand delivers economic results, adequate funding for visitor attraction messaging must be in place. Campaigns must have focused and strategic messaging to inspire travel to and through Ohio. This is important to not only the businesses in Ohio who depend on a strong travel economy, but also to the state itself. According to the latest economic report, for every $1 invested in the 2022 TourismOhio advertising campaign, $73 was generated in direct visitor spending and $5 was added to Ohio tax coffers.
As travel-related expenditures contribute more than 10% of all tax revenues collected by the state, if there's a dip in an ROI, fewer dollars will be available for education, social services, and all the other priorities important to Ohioans, including the dollars needed to attract workers and business investment.
Expansion of the messaging by the Ohio Department of Development to workforce attraction is smart and important. The Department has created two separate campaigns - one focused on increasing visitation and another focused on increasing awareness of Ohio as a good place to live, earn and visit. We need to ensure media buys are made wisely, with enough frequency in key markets to drive travel and increase visitor expenditures.
Consistency is Key
Brand consistency will also determine whether or not "Ohio, The Heart of it All" is ultimately a success. Generating brand awareness isn't done overnight. It takes patience and investment. Some of the strongest destination brands have been in place for decades. None of them burst out of the starting gate with the same power to move minds and hearts as they have today.
Every time Ohio rebrands, momentum is lost, and we have to start over. Because "Ohio, The Heart of it All" isn't unfamiliar to many, we can continue to build and reinforce its story. But we should also prioritize the way the brand is perceived, received and understood by people outside of Ohio. If analytics show it's well received and working, then we should not change the brand based only on political preferences. For the good of Ohio, future changes should be linked to business metrics.
Stay Informed. Support the Ohio Travel Association through Membership
Representing all businesses who depend on a strong travel economy, the Ohio Travel Association is led by industry professionals to support what is needed to advance the travel economy in Ohio. In addition to professional development opportunities, OTA represents the industry's needs at the local, state and federal levels. Weekly newsletters keep you informed and up to date.
Story Behind "Ohio, The Heart of it All"
Ohio Department of Development explains the rationale behind the new brand:
Ohio is bursting with opportunity, and this logo embodies that optimism. The word Ohio expands beyond our borders with the text leaning forward towards the future. The colors in this logo are classic, and iconic – pulled from our state flag, the Ohio burgee.
This is a flexible and versatile theme that works in many ways. Ohio is the:
Heart of Opportunity
Whether you are starting a business, looking to change careers, or working towards a better future, Ohio brings goals to life.
Heart of Adventure
We're home to 75 free state parks, 5 zoos, 2 amazing amusement parks, Cuyahoga Valley National Park, and thousands of events and festivals.
Heart of Technology
From Intel to Google to Honda's new EV plant and more, we're building on our innovative history and staking our claim as the Silicon Heartland.
Heart of Family
If you're reuniting with your family, starting your own, or finding a community that feels like home, Ohio welcomes you.
Heart of Education
Higher learning is a high priority in Ohio with 14 public universities, 23 community college and technical schools, and more than 50 private colleges and universities.
Heart of Creativity
Inventors, artists, rock stars – all let their creative minds shine in Ohio.
Heart of Prosperity
Ohio boasts the 7th largest economy in the US and is home to 25 Fortune 500 companies.
This is Ohio's time. Companies are investing here and creating countless opportunities. We are a leading state for affordability and quality of life. It's time to tell our story. So, we've built something familiar yet fresh to showcase all that Ohio has to offer as a place of adventure, a place of promise, and the place for you. Ohio is more than just a place on a map. It's a place in people's minds, and in their hearts.
Our brand theme, Ohio, The Heart of it All, speaks to Ohio's central geographic location – we're within a day's drive of 60% of the US and Canadian populations. But just as importantly, it conveys that Ohio is the heart of the heartland. The heart-shaped state. The home of heartwarming stories and heartfelt joy.
---